OK, I'm going to assume everyone reading this article understands fundamental on-page and off-page SEO. Fundamentals such as good page load speeds, mobile friendly website, and quality content, etc. should be a given. With that being said, let's dive into how to take existing content from your website and improve your current rankings in the SERPs.
Tools I Use:
Getting Started

Grab the URL you want to improve from your website. This can be a product page, an article, etc. I'll use a current project I am working on as an example. Their content piece revolves around the main keyword "Fertility Pills". Grab the URL and throw it into SEMrush.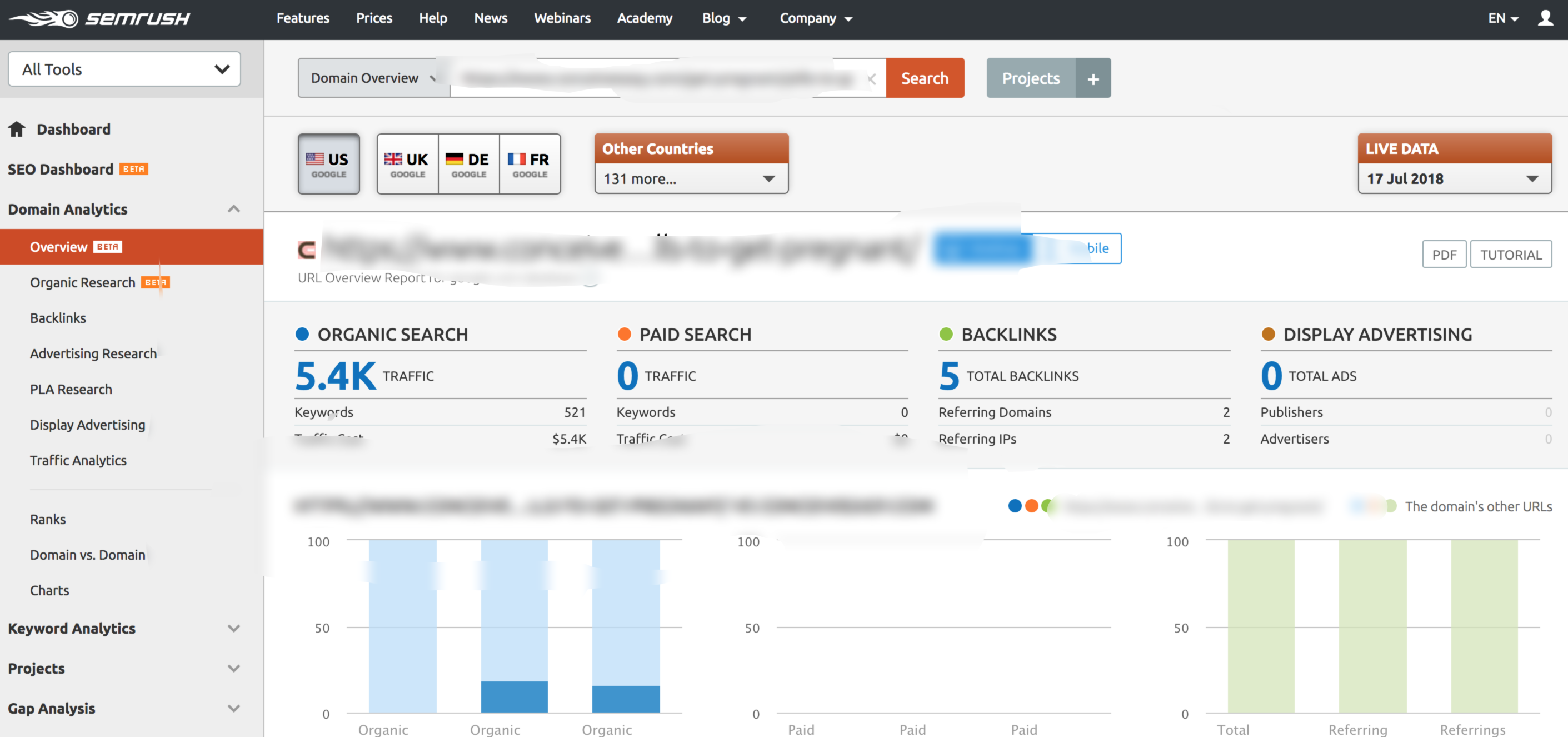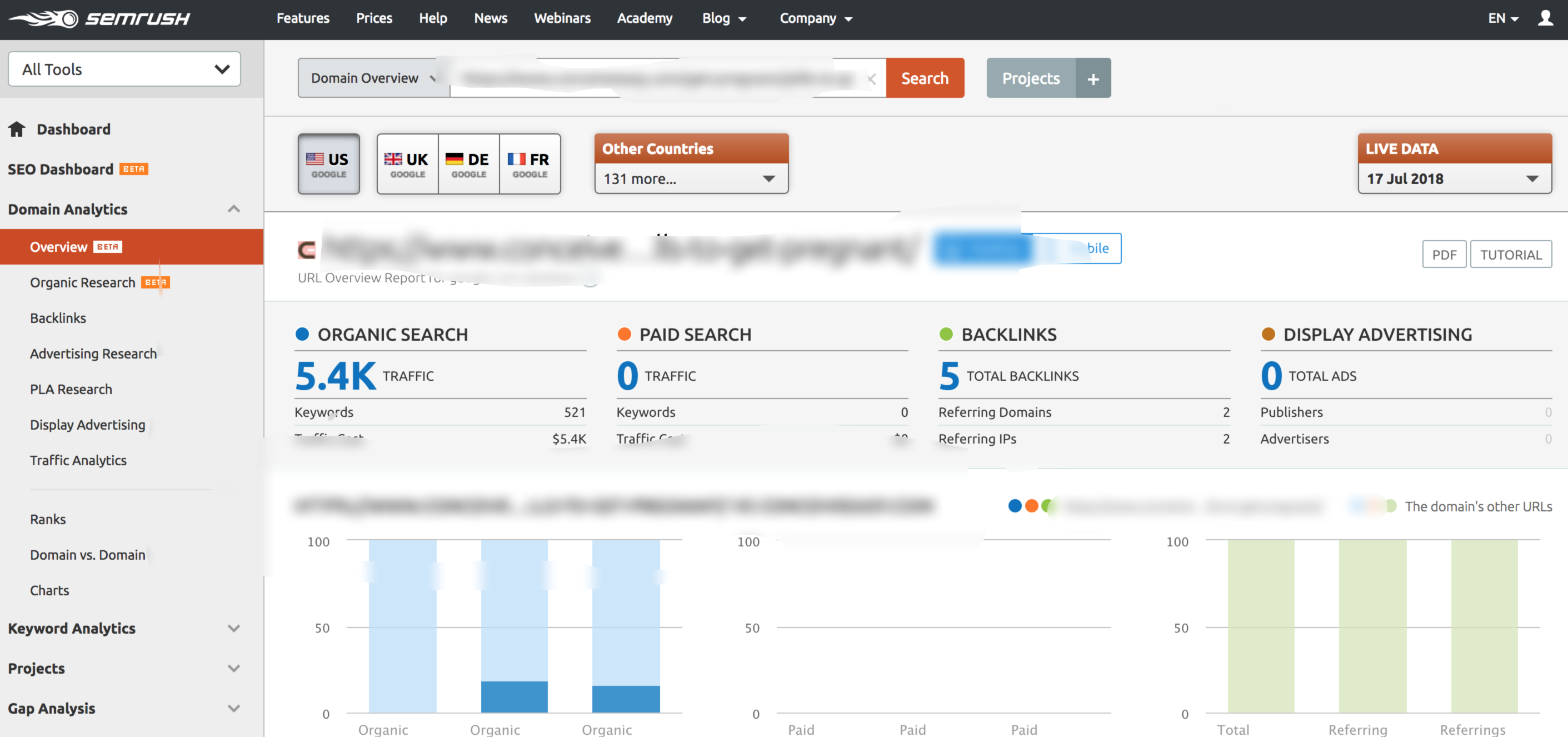 Next, scroll down to "Top Organic Keywords" and click "View Full Report".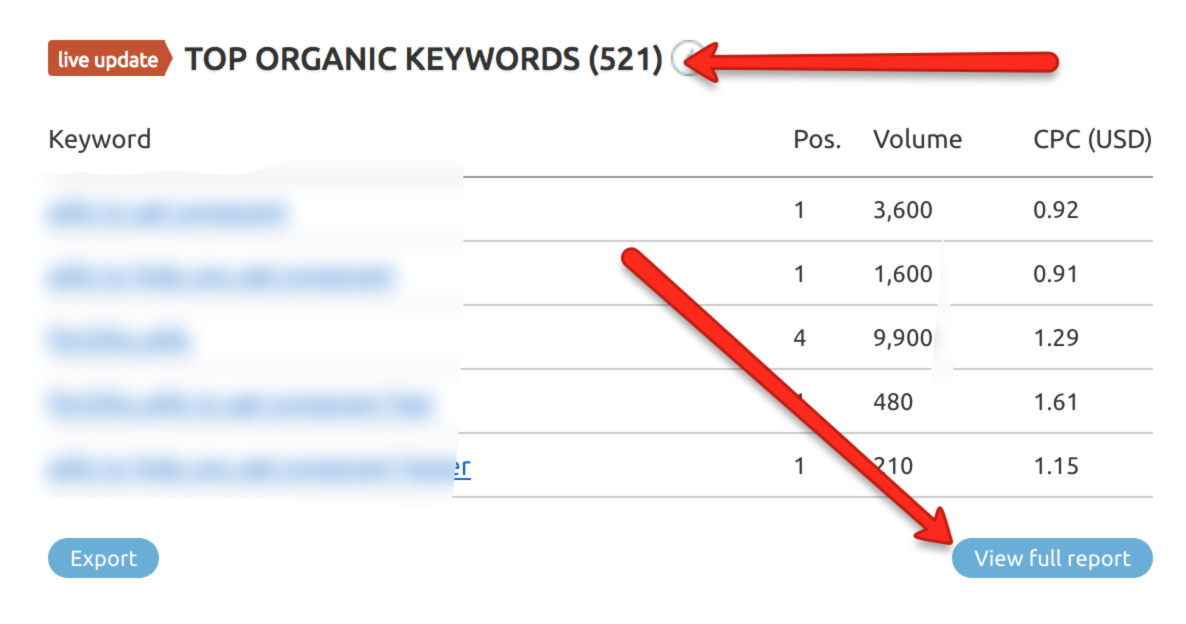 In this instance, my client has over 500 keywords, so to narrow it down, I sort by volume:


Sort the keywords by top search volume. Once you do this, click to export.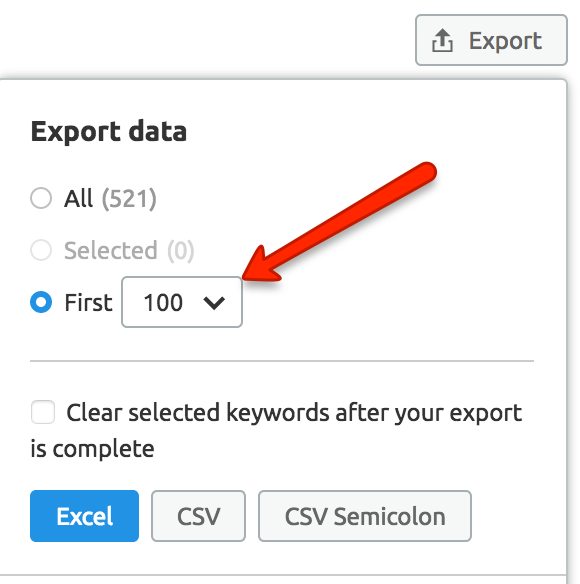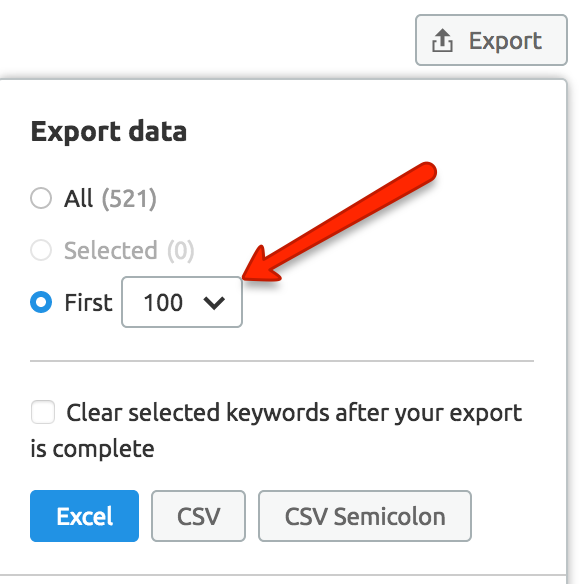 SEMrush gives you the option to export only the top 100. If you want less than that, you can always manually click the keywords you want to export. Sometimes I will choose to do it manually if I want to take out any keywords ranking #1, irrelevant keywords, or if there are very specific keywords I want to concentrate on. Most of the time, I keep the keywords ranking in the top position so I can monitor them and make sure there aren't any drastic drops.
Next, highlight all the keywords in column A in excel. Once you do this, go to your rank tracker and paste all 100 keywords into your rank tracker. In Serpbook, I create a category (call it "Fertility Pills Article"), paste the keywords into the keyword list field, then click the option to only track that specific URL.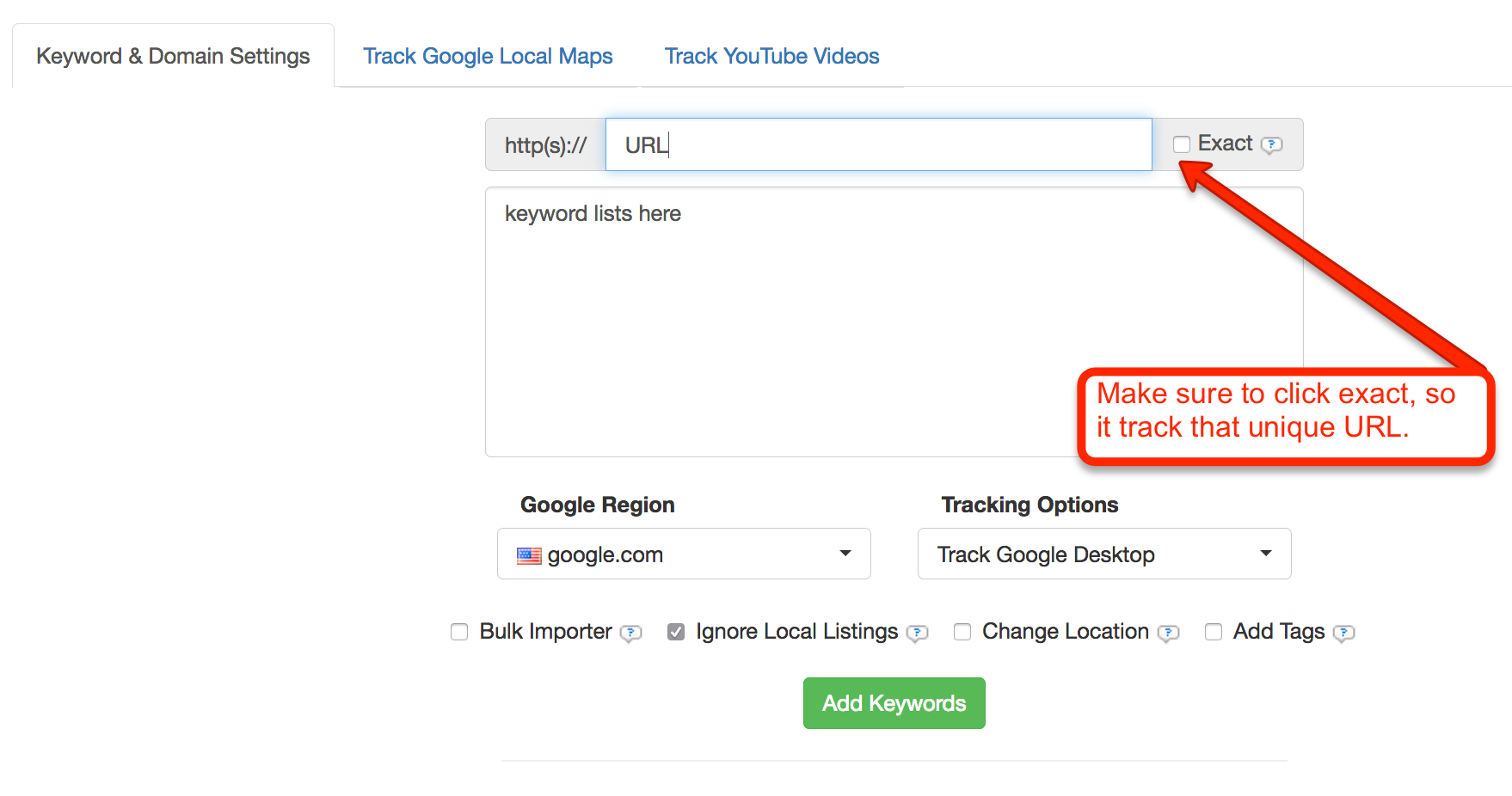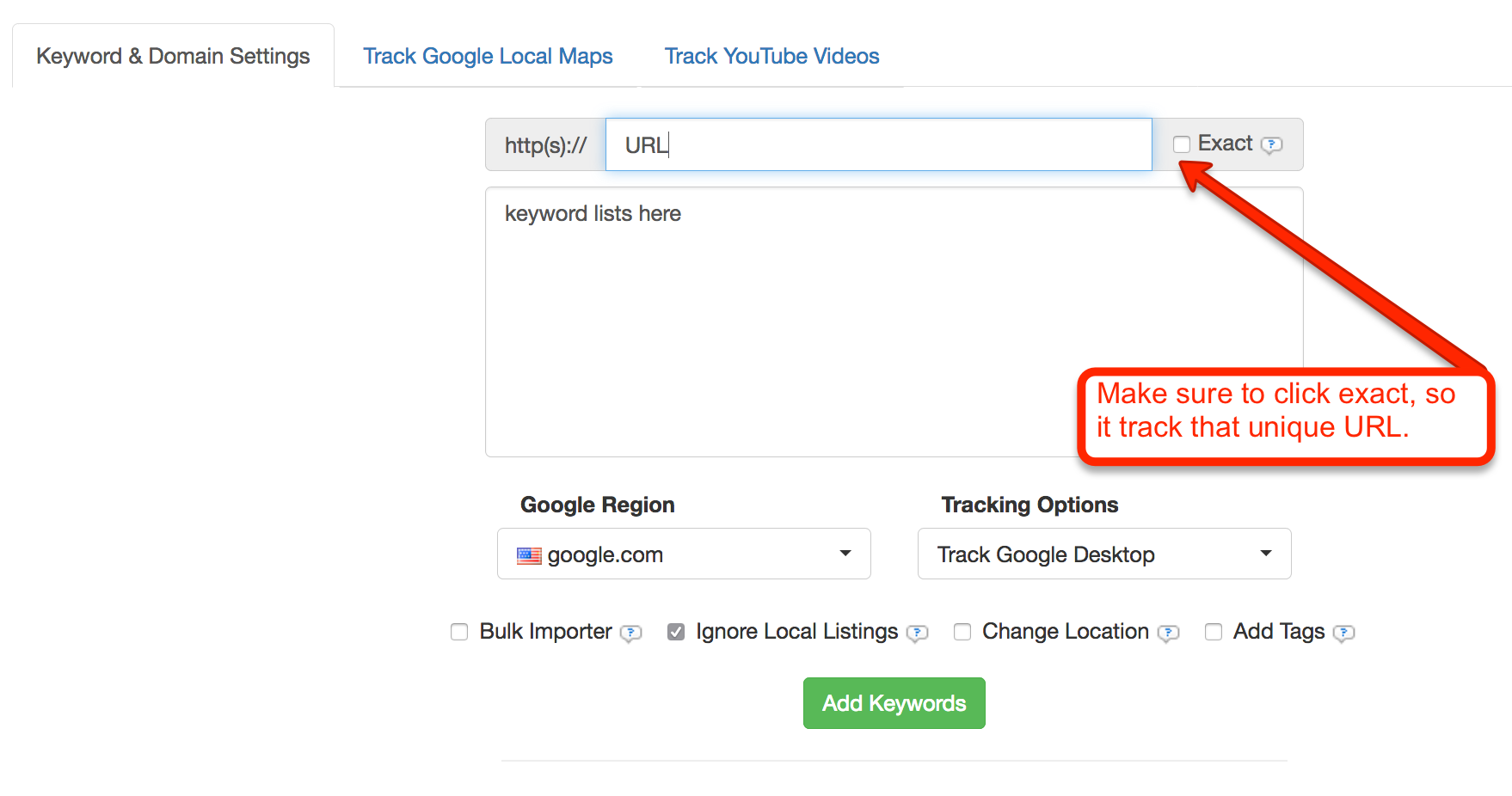 Before I go any further, I wanted to mention that SEMrush gives you the option to show keywords in desktop and mobile. Since search results vary with mobile and desktop, you want to export two separate lists of keywords from SEMrush.
In Serpbook, you also want to create two different rank tracking categories. With this client, I have them listed as "Fertility Pills Desktop" and "Fertility Pills Mobile". In the above screenshot, you can see that Serpbook gives you the option under "Tracking Options".
Next, I set up a saved report in Analytics and a custom report in Databox. I'll start with Analytics first.
Go to your Analytics dashboard and click Behavior>Site Content>Landing Pages:


Next, you want to segment it by Organic Traffic: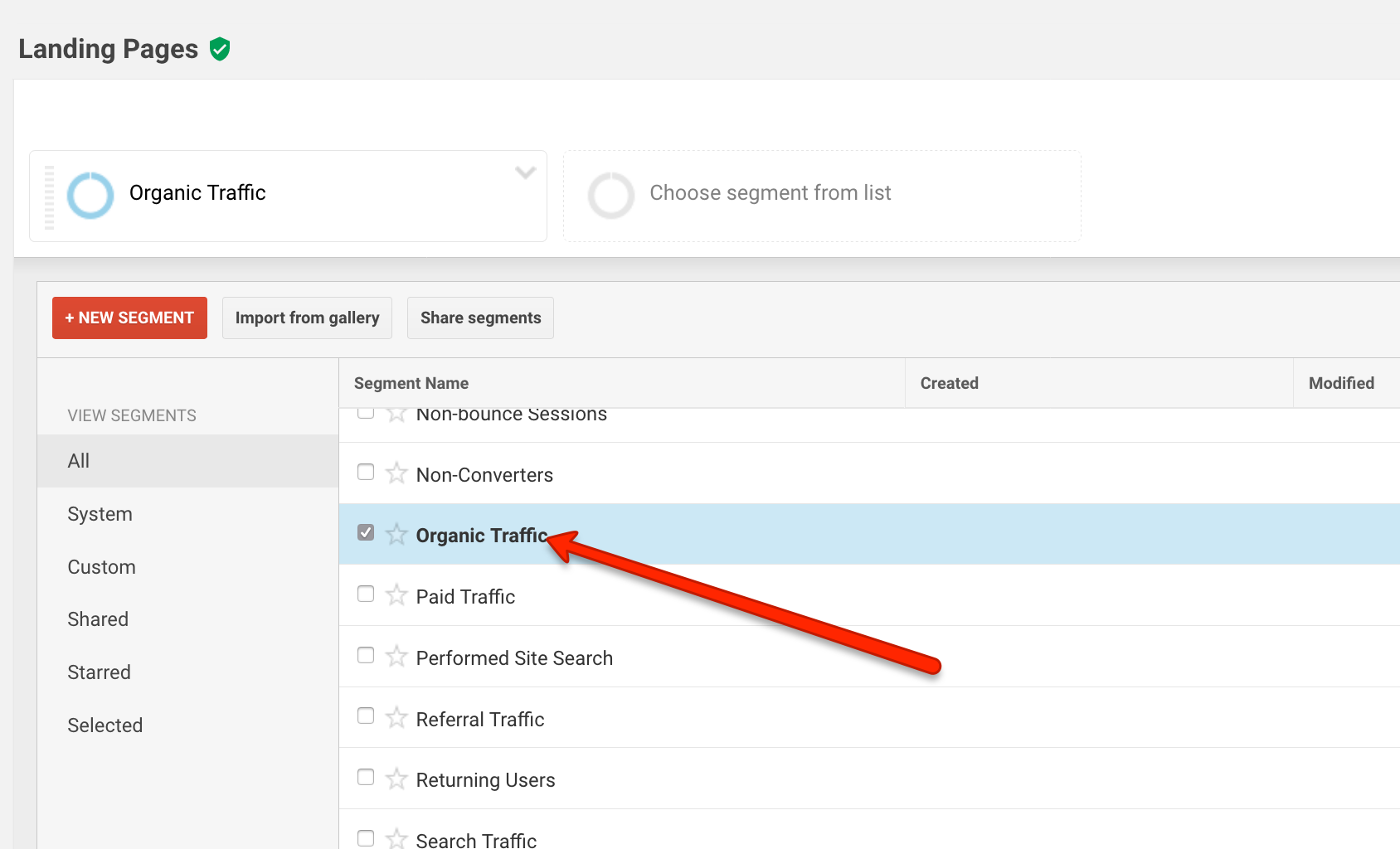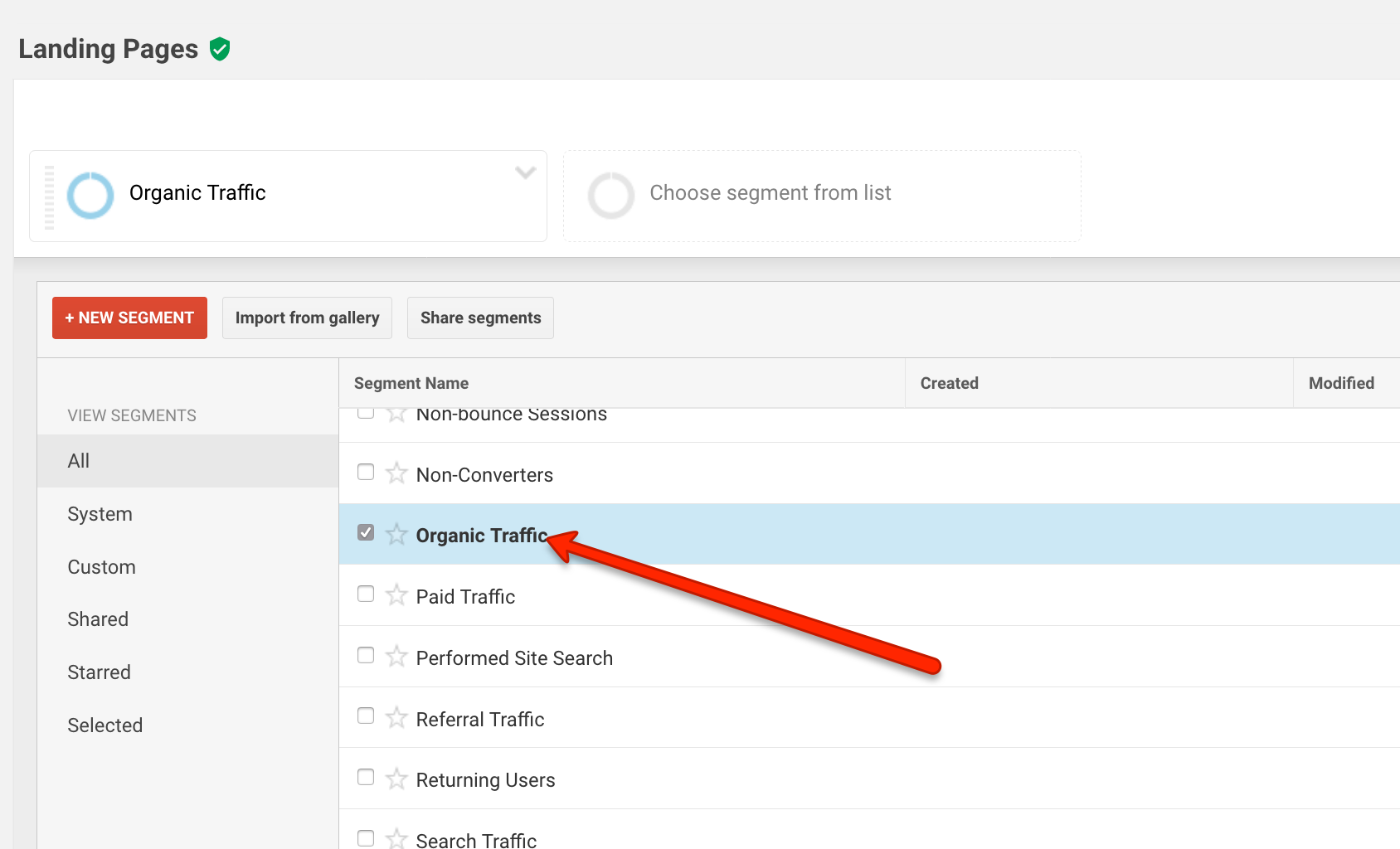 Click "Apply". After you do this, find the URL under landing pages, which you are working on: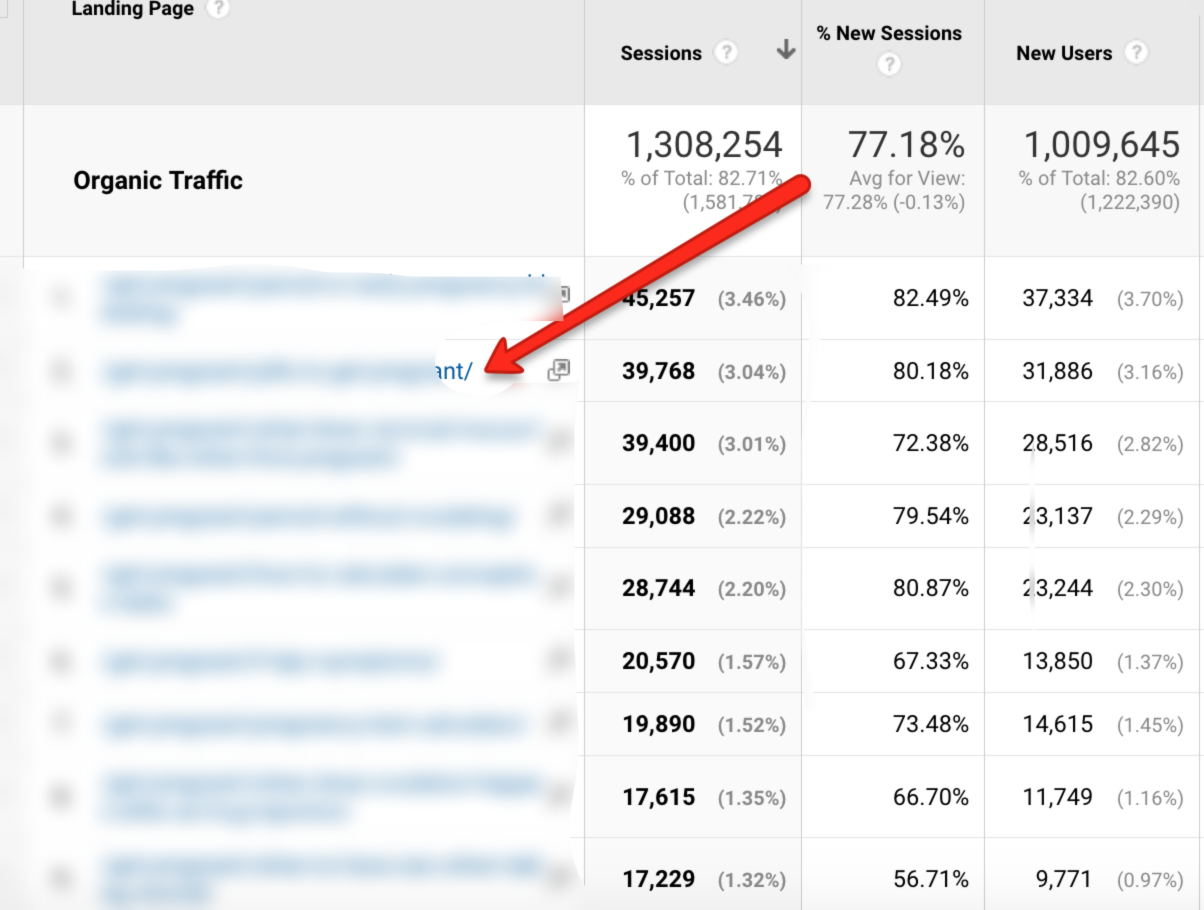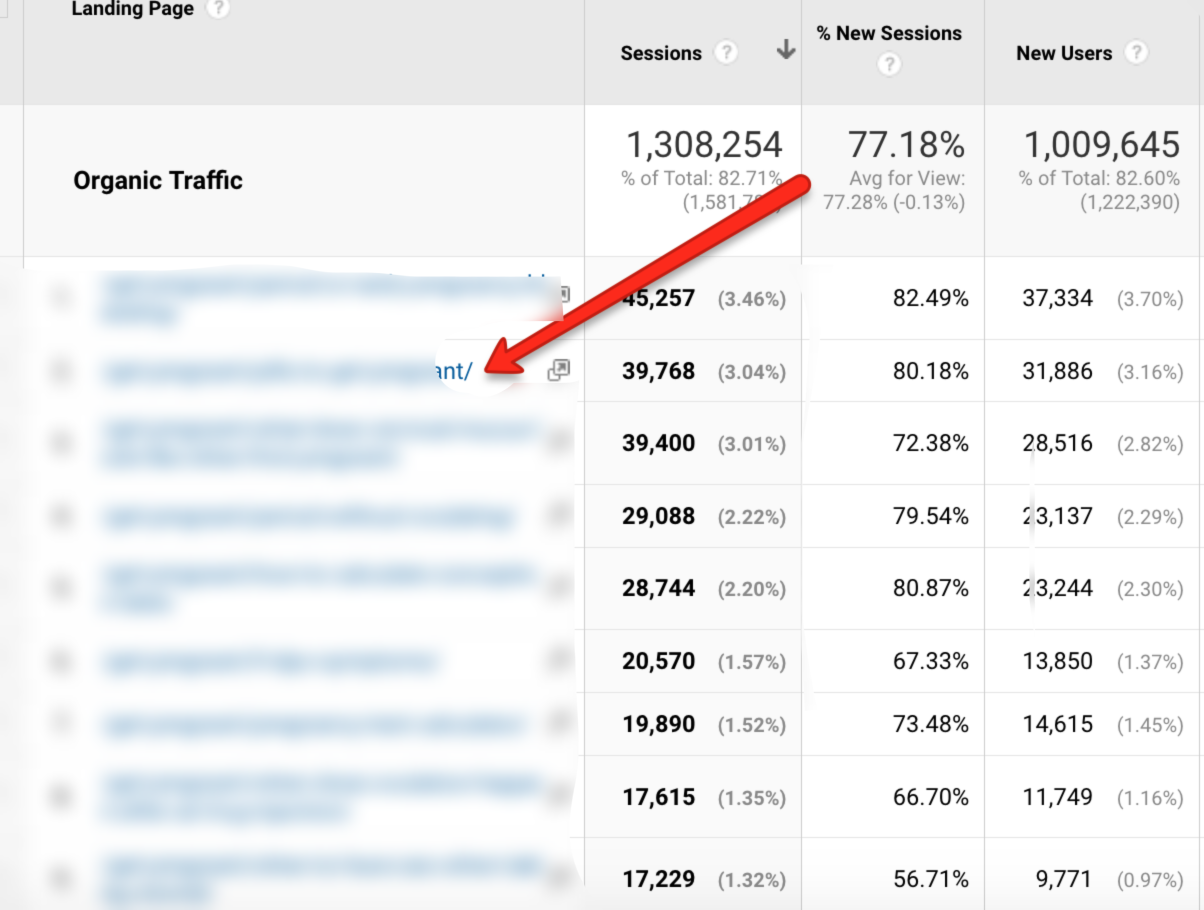 Once you click on the specific URL , go to the top right corner and click "Save":


This will allow you to quickly access your report under Customization>Saved: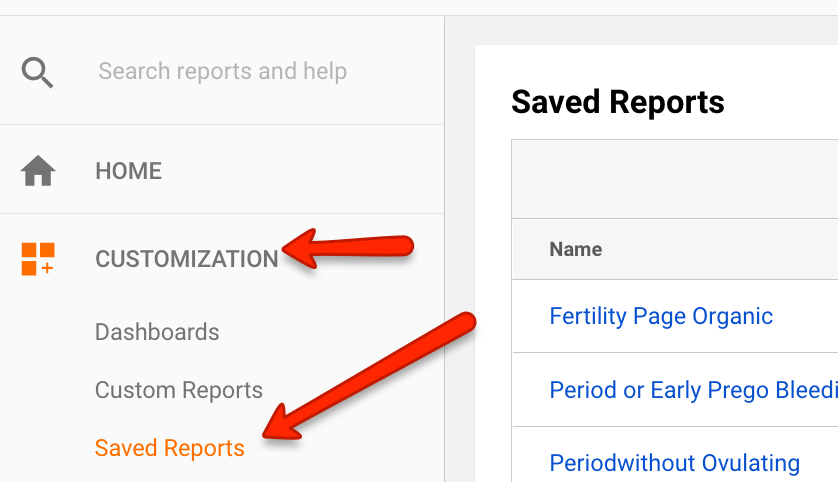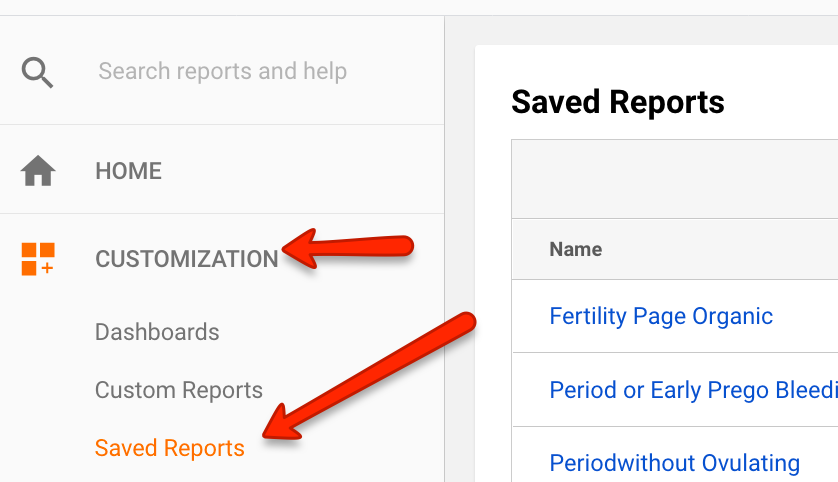 Couple things to mention up to this point.
You can set up multiple segments and save them individually. For example, if you want to have a segment for just mobile traffic, you can create a report for that. Desktop, etc.
I like to set date ranges and compare to the previous period to see how the traffic is growing. I do this automatically by setting up a custom dashboard in Databox.com. I want to keep this tutorial short, so I'm not going to get into how I set a dashboard up in Databox, but this is what mine look like: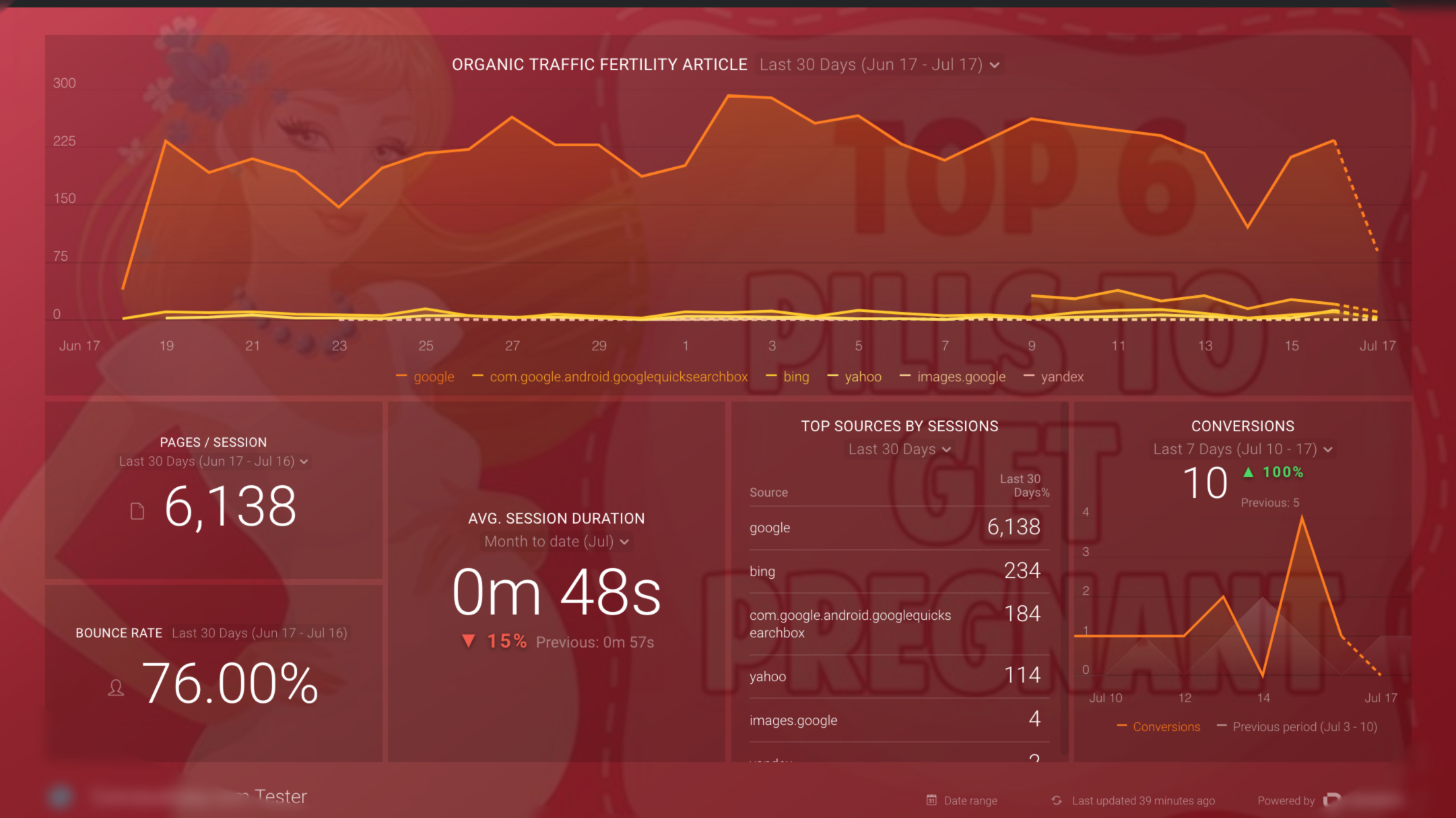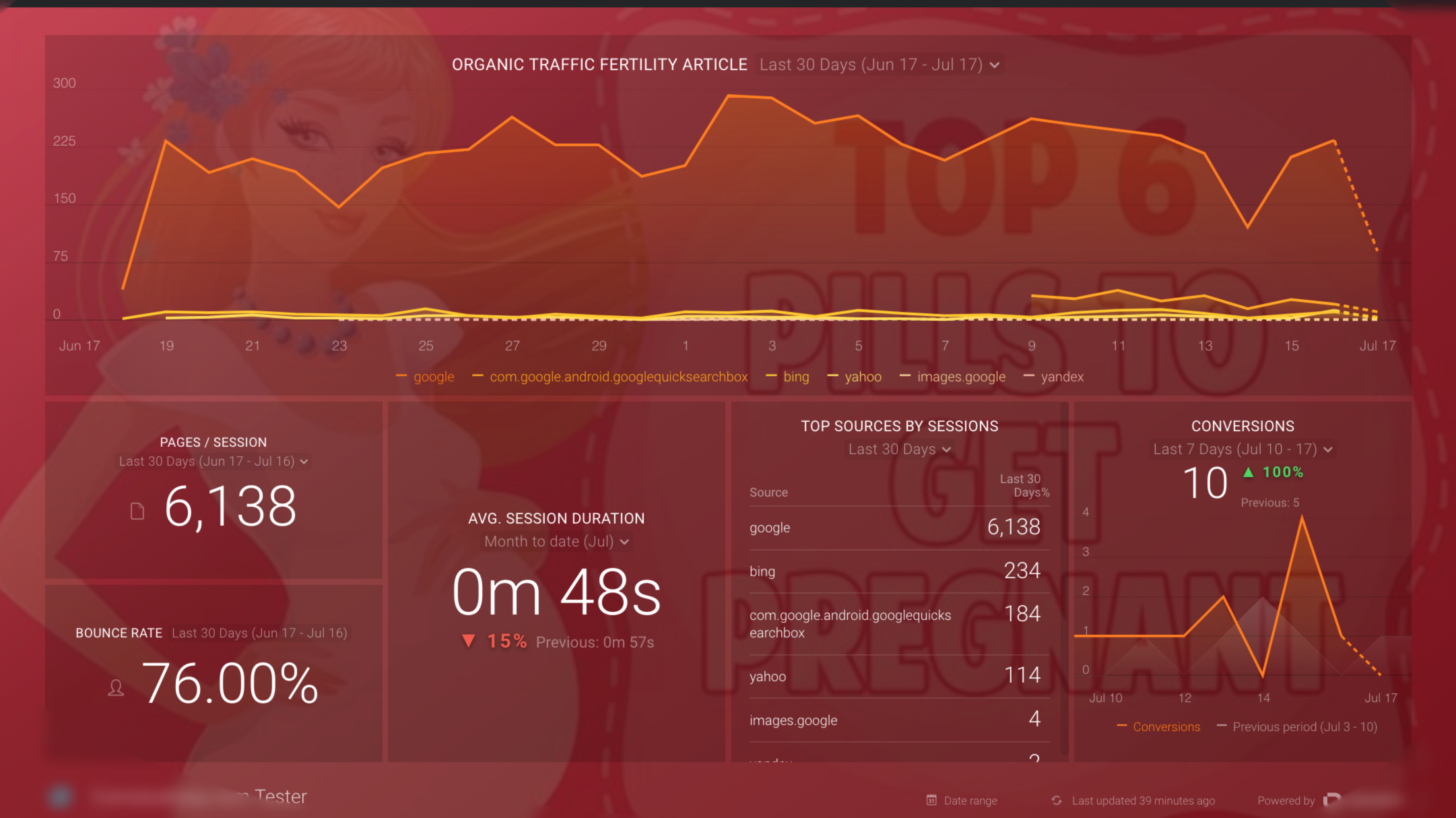 Now, before all the haters come out of the woodwork, understand that I started this project on the 29th of June. As you can see on the first, there was a nice jump in traffic after my initial phase. Also, as you can see from the rankings, they are already seeing a nice boost: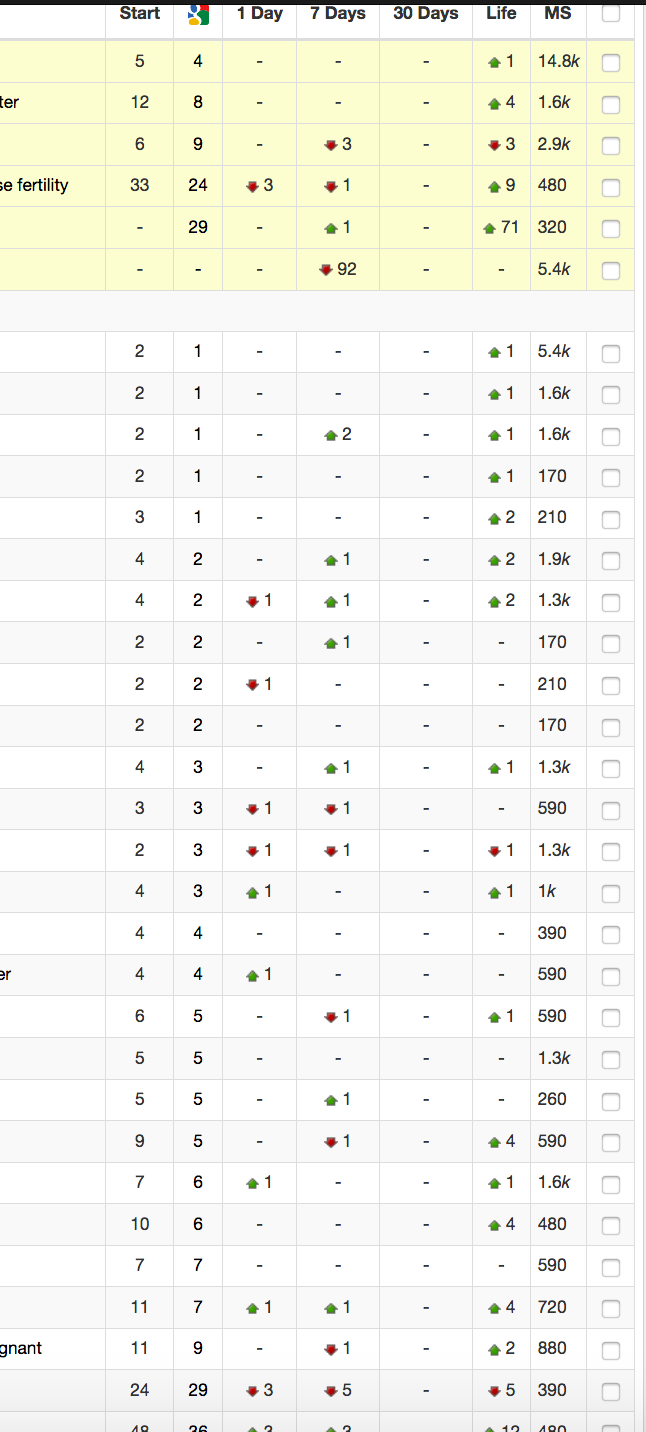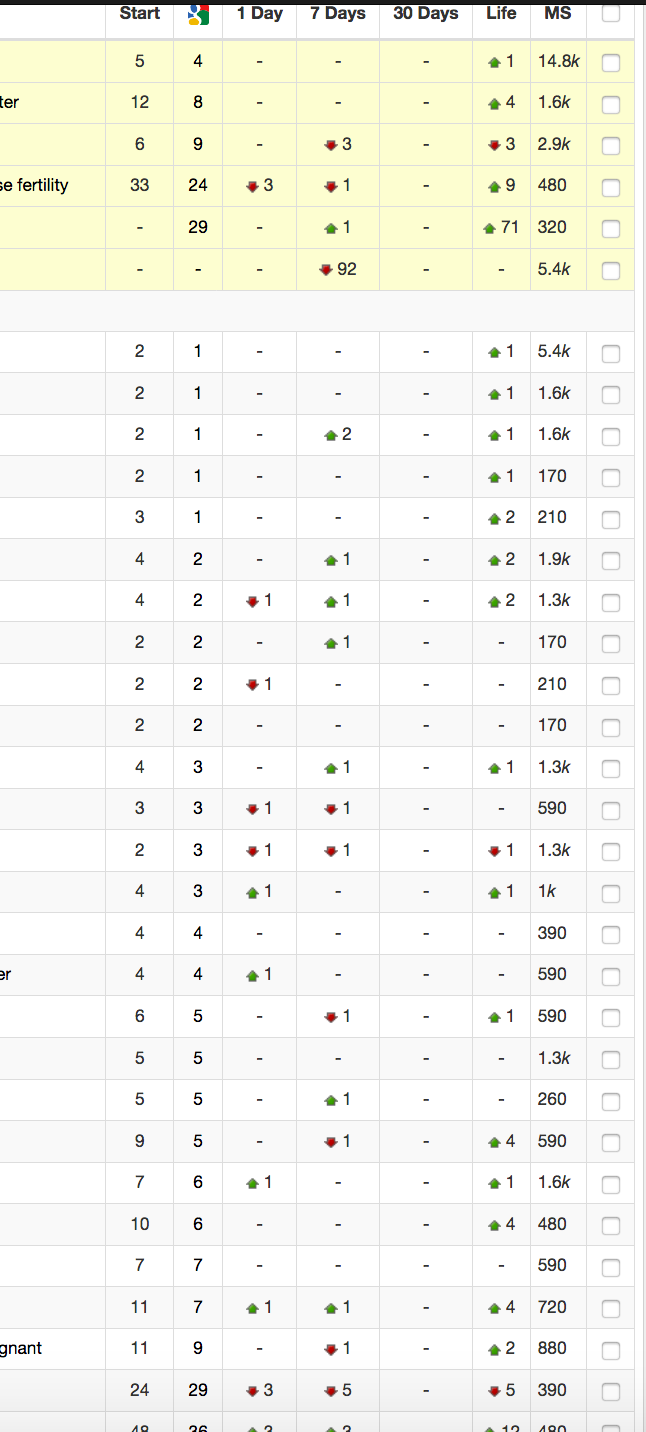 Before I get into the actual audit process, I want to give a nice little tip. If you are auditing a blog post, make a few small tweaks and change the post date. Once you do that, use the Fetch as Google option in Search Console (make sure to add the specific URL). This is merely anecdotal, but all my tests show that this small little change will actually give your page a nice little boost (per Google's Recency/Freshness Algo). Good article here about the subject.
Auditing Your Content
Again, I'm trying to keep this as short as possible, so I'm not going to get into the fundamental on-page stuff. What I will tell you is, sometimes the smallest tweak can make a huge difference. For example – bolding keywords, adding internal links to relevant pages, adding internal links from relevant pages (find top authority pages and funnel page rank), outbound linking to authority websites, adding keywords, tweaking the meta tags, extending alt tags, etc.
With that said, the first thing I do is run the page through Ryte.com's TF*IDF module. If you don't know what that is, I explain it in this article. In layman's terms, it's how many times a keyword is used within the content. Hence – term frequency.
Click on Content Success>Analyze>New Analysis: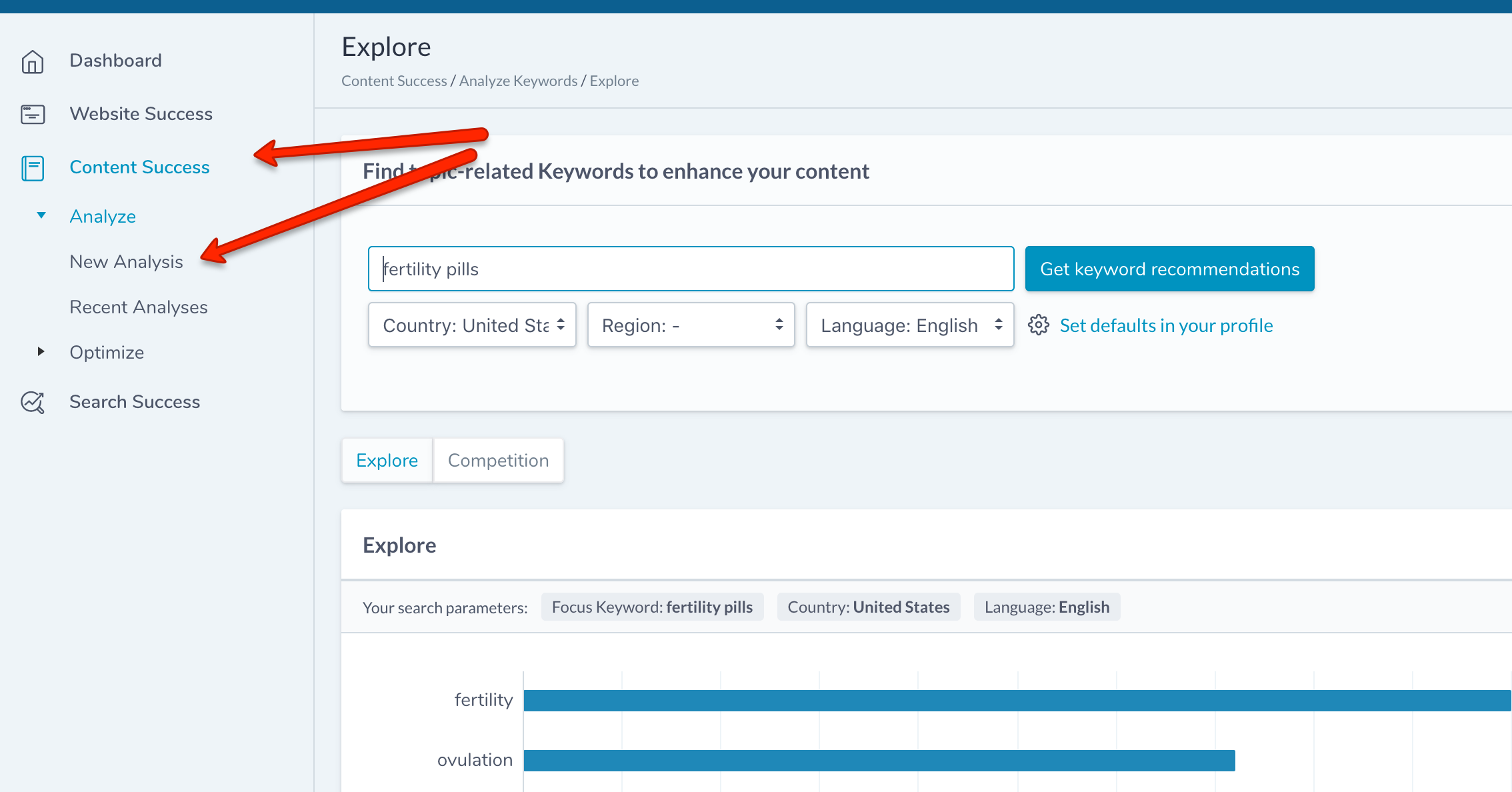 This will show you the top 10 competitors keyword frequency list. These are the most prevalent keywords in correlation with the keyword "Fertility Pills". It also gives you list of keywords by relevancy: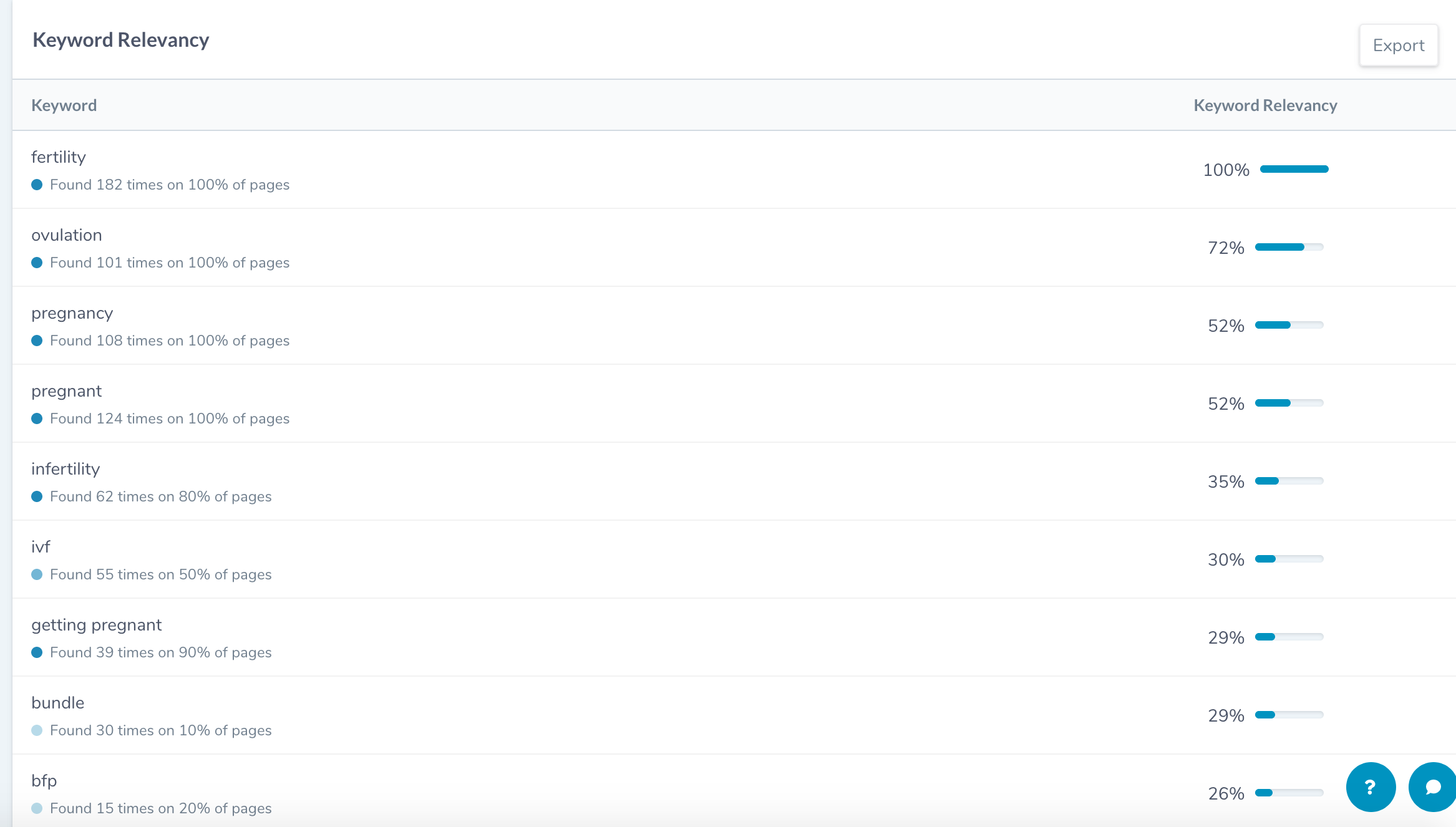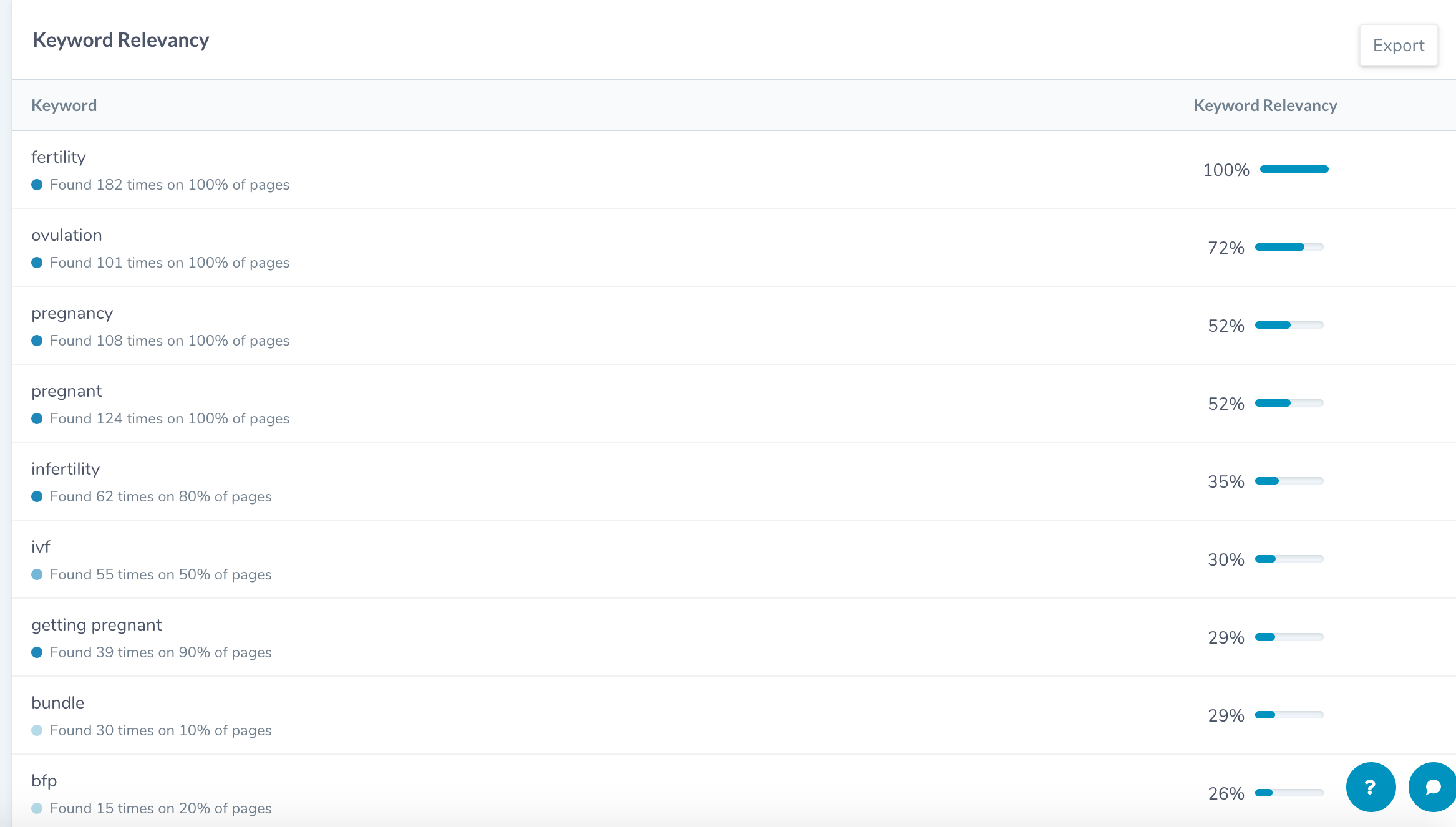 Next, you want to compare your URL with the top competitors: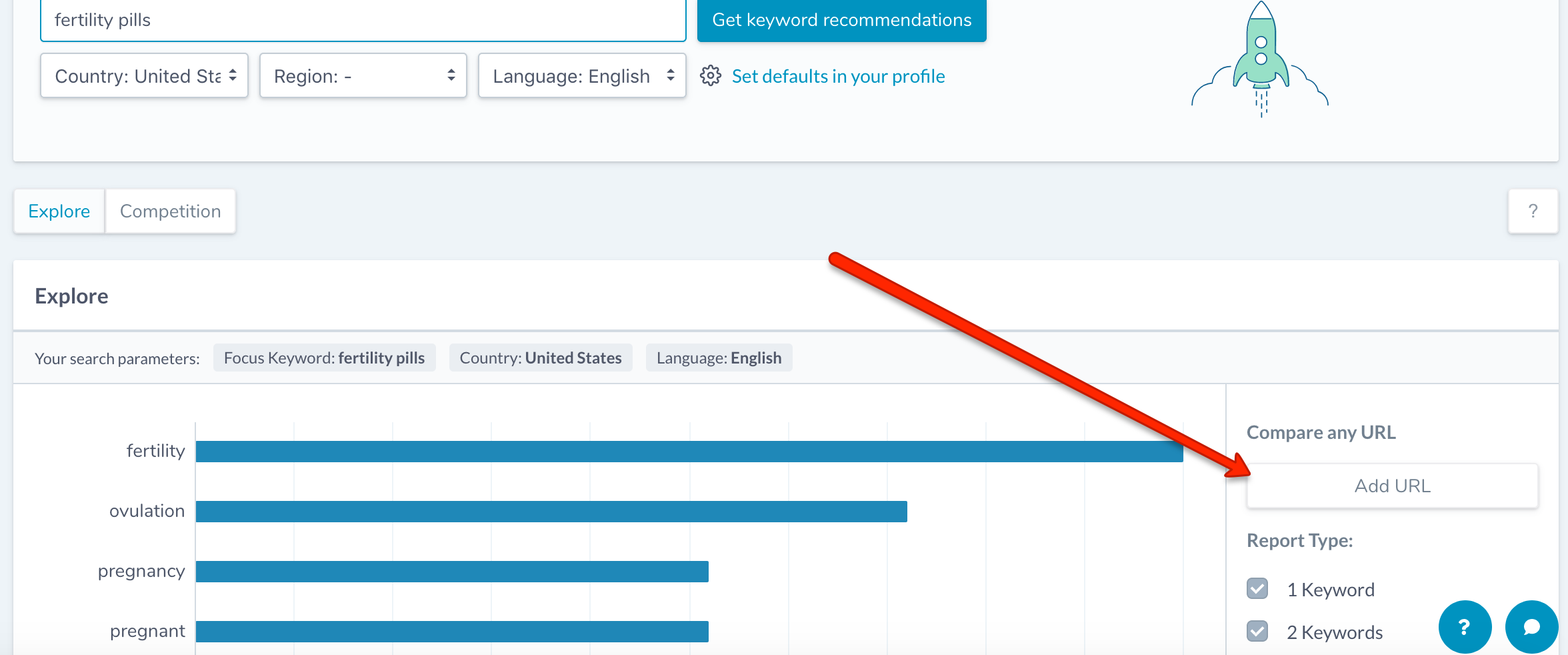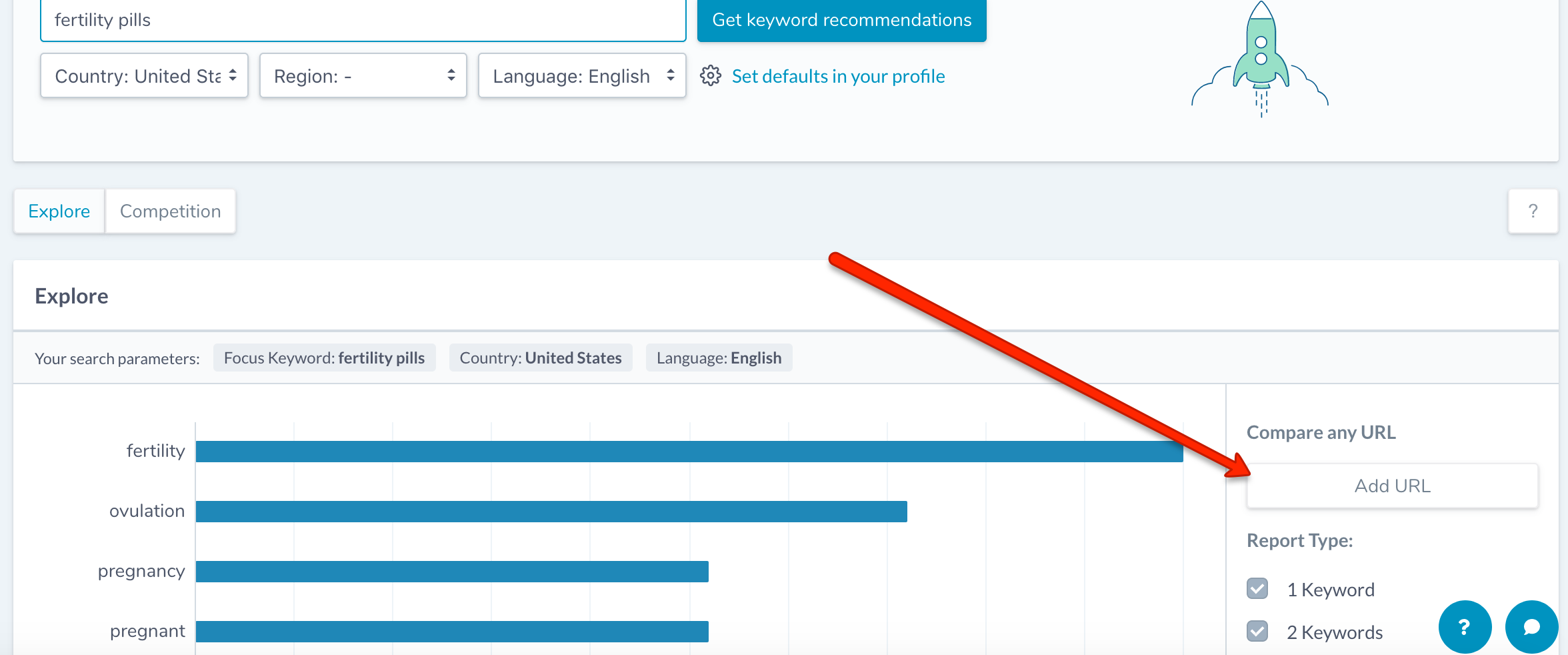 This will show you how your content stacks up with the competitors as far as term frequency: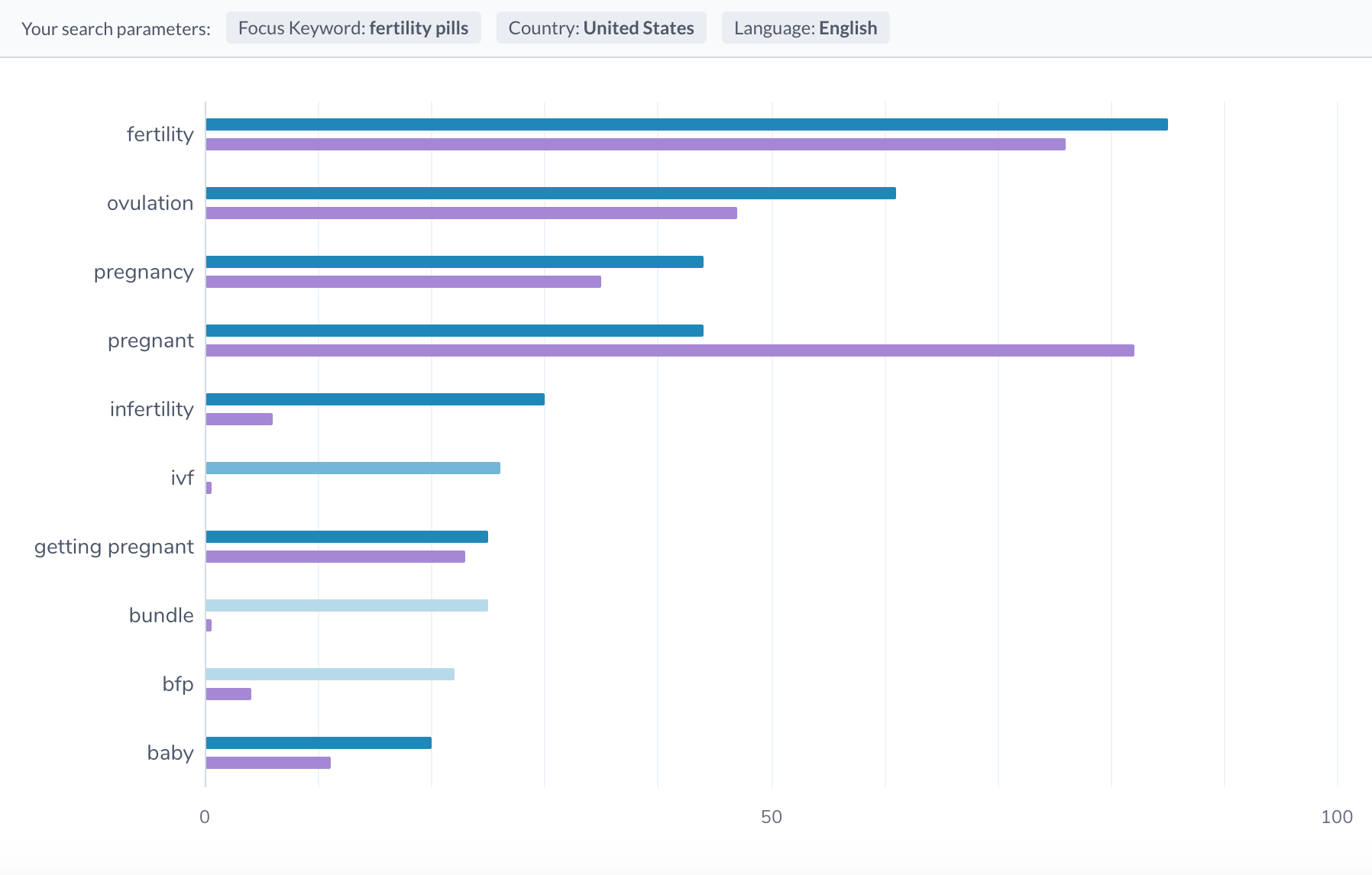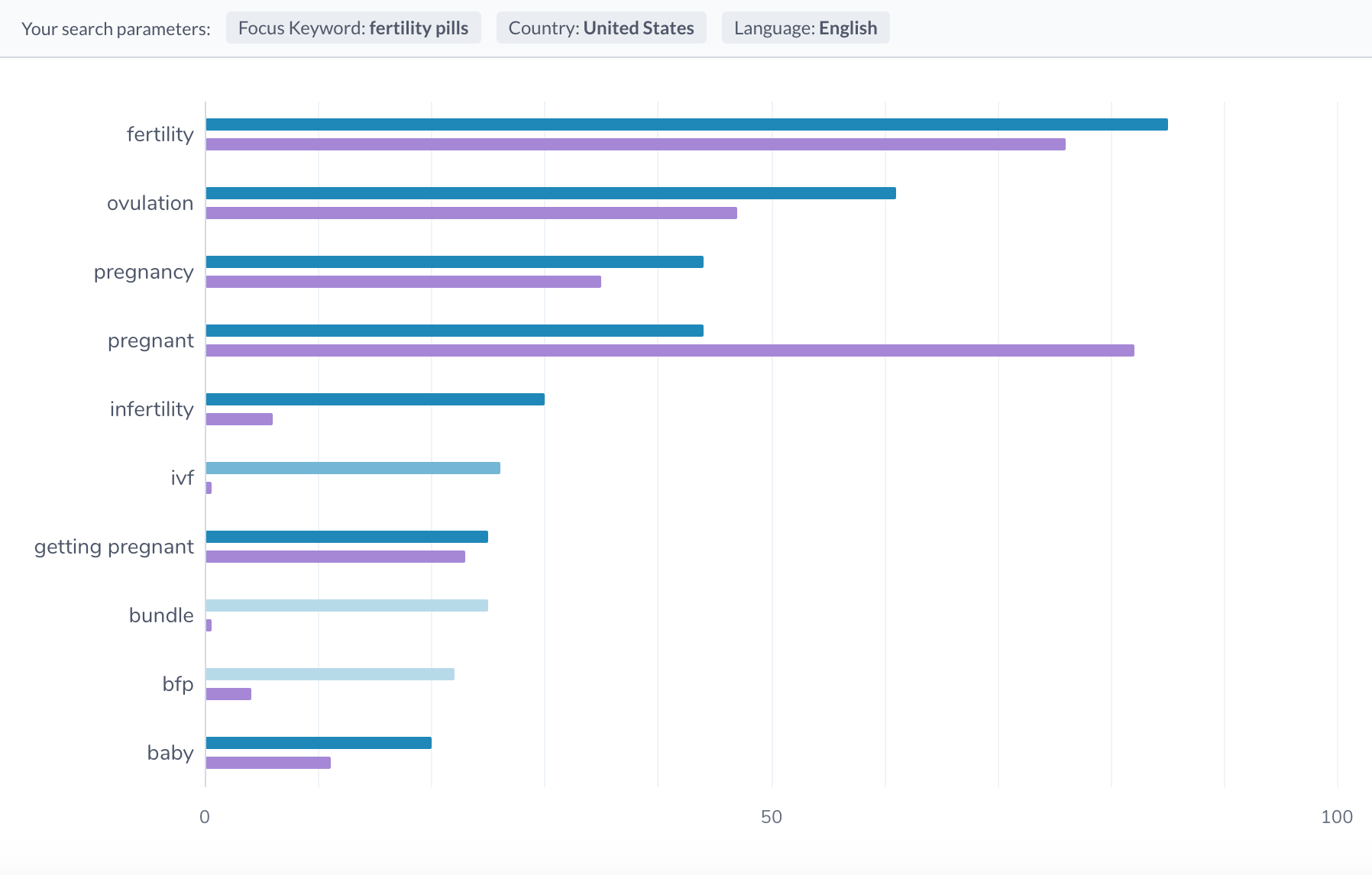 As you can see above, my client (in purple), could add "fertility", "ovulation", and "pregnancy" within their content (could also be included in meta tags as well) in order to improve.
You can also click on the tab "Competition", to show individual sites and how frequently they use each term: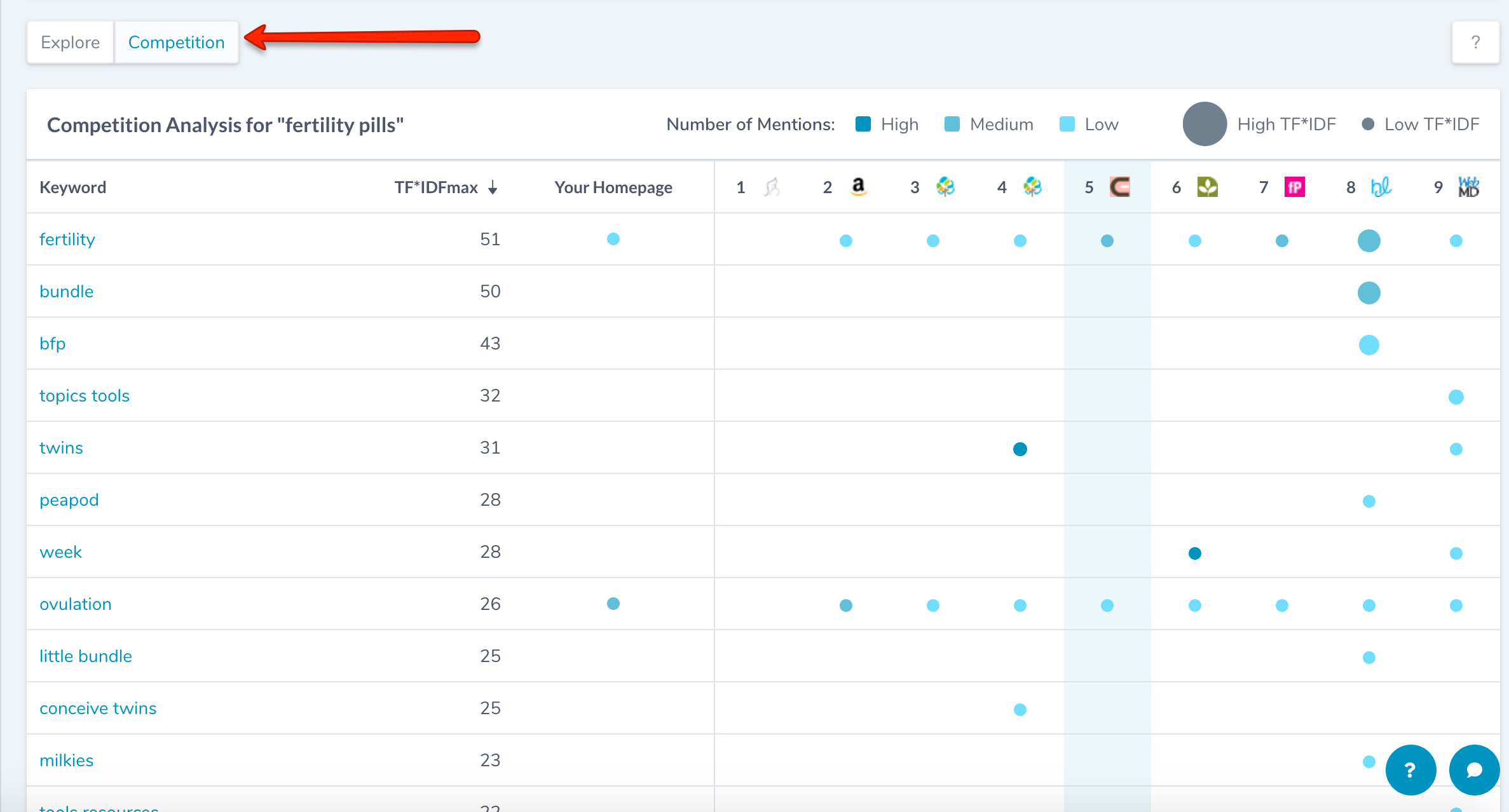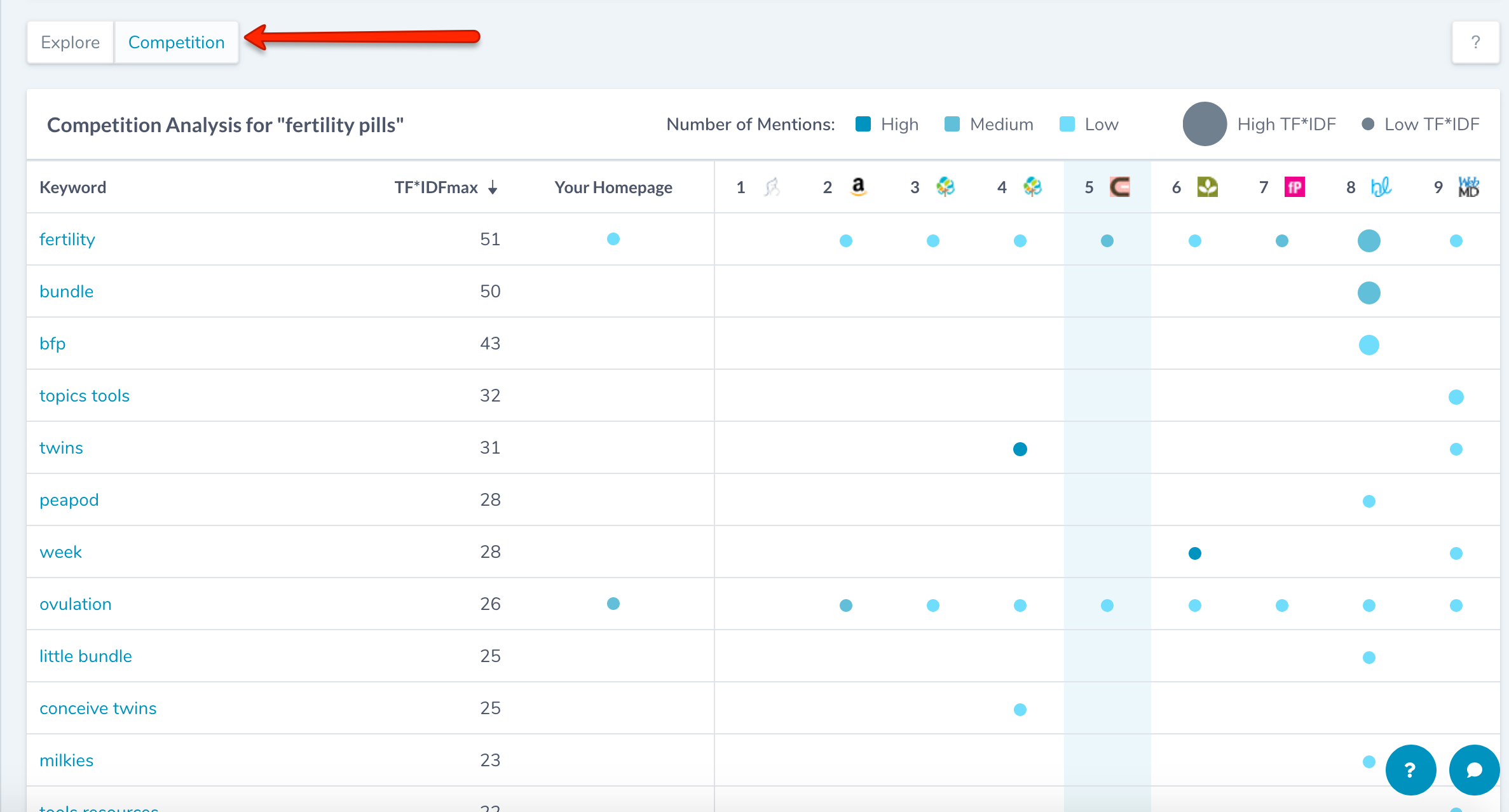 I'm not going to get into all the nuances of how I use this software, but if you're a data nerd like me, you can get pretty crazy with this stuff. Like anything in SEO, use the knowledge I have bestowed on you and get creative 🙂 You will want to run these reports for all keywords you originally exported out of SEMrush. You will see a ton of overlap, but pay attention to the details. There could be 1-2 keywords within each report that your content is missing.
Now, this is a process that I usually do over a period of months. I like to make some tweaks to the page and monitor the rankings and traffic for a week or so, then rinse and repeat. I also try not to build links to the page right away, because I like to know how much of an effect simple on-page tweaks are making to the page. Sometimes, that's all you need to really push a page into those coveted positions, but many times it really comes to link building, which I will get into next.
Also, another way to see where your content may be lacking is to simply monitor your rankings. Anything that is sitting off the first page could be deficient in some way. Sometimes a single word inserted within the content can launch a keyword onto the first page.
In some cases, if it's ranking 20+, it's a good indicator that Google doesn't find the content specific or relevant enough in regards to those keywords or phrases. In this case, sometimes it's good to write a hyper-focused article about the lower ranking keywords, then link from the original article to the new content.
Sometimes, in this client's case, I could tell that they had so much overlapping content, that they were cannibalizing his top pages. In this case, we decided that we are going to find pages, which aren't ranking high and 301 them to the most relevant pages. The devil's always in the details, bros.
Link Building
There was a study I read recently by Ahrefs.com (I can't seem to find it, but if someone has it, shoot me an email), in which they analyzed over a million websites and found that 90%+ of ranking pages in the top 10 of the SERPs had links pointing to those pages.
Those of us in the trenches would say "duh", but I can't preach how important links are in your ranking strategy. Us little guys don't have the authority of the thousand pound guerillas like Wikipedia, or Amazon, to rank purely with authority, so it's important that you build links to your inner pages. Even if it's 2-3 relevant links, it's super important.
What I like to do is buy some link drops on relevant pages (if you are in need I can help you out). The other way is to build your own PBN, or get yourself into a PIN (if you don't know what a PIN is, read this awesome post by Gary Allsop here). Private link networks are becoming my new favorite way to get links, because it doesn't cost you anything and it's a great way to dominate.
The issue is, it can be hard to get into one of these groups. Most of them are on Slack or Facebook private groups.
Acquire links, monitor traffic and rankings. Rinse and repeat.
In conclusion, get creative with the information I've shared with you here. I use this very same method to audit my clients who have Ecommerce websites as well. Use your imagination with this. It's endless.
If you are in need of content audits or SEO, feel free to contact me today!
**Update – here is an example of how I add keywords throughout the process to increase specific keywords: