Instagram has just announced that it's planning to organize its feeds rather than displaying posts as they go live. The reordering of the feed, if implemented on the site, will bump up popular posts and those from good friends and families all the way to the top. Eventually the site hopes to eliminate irrelevant and unpopular posts from user feeds.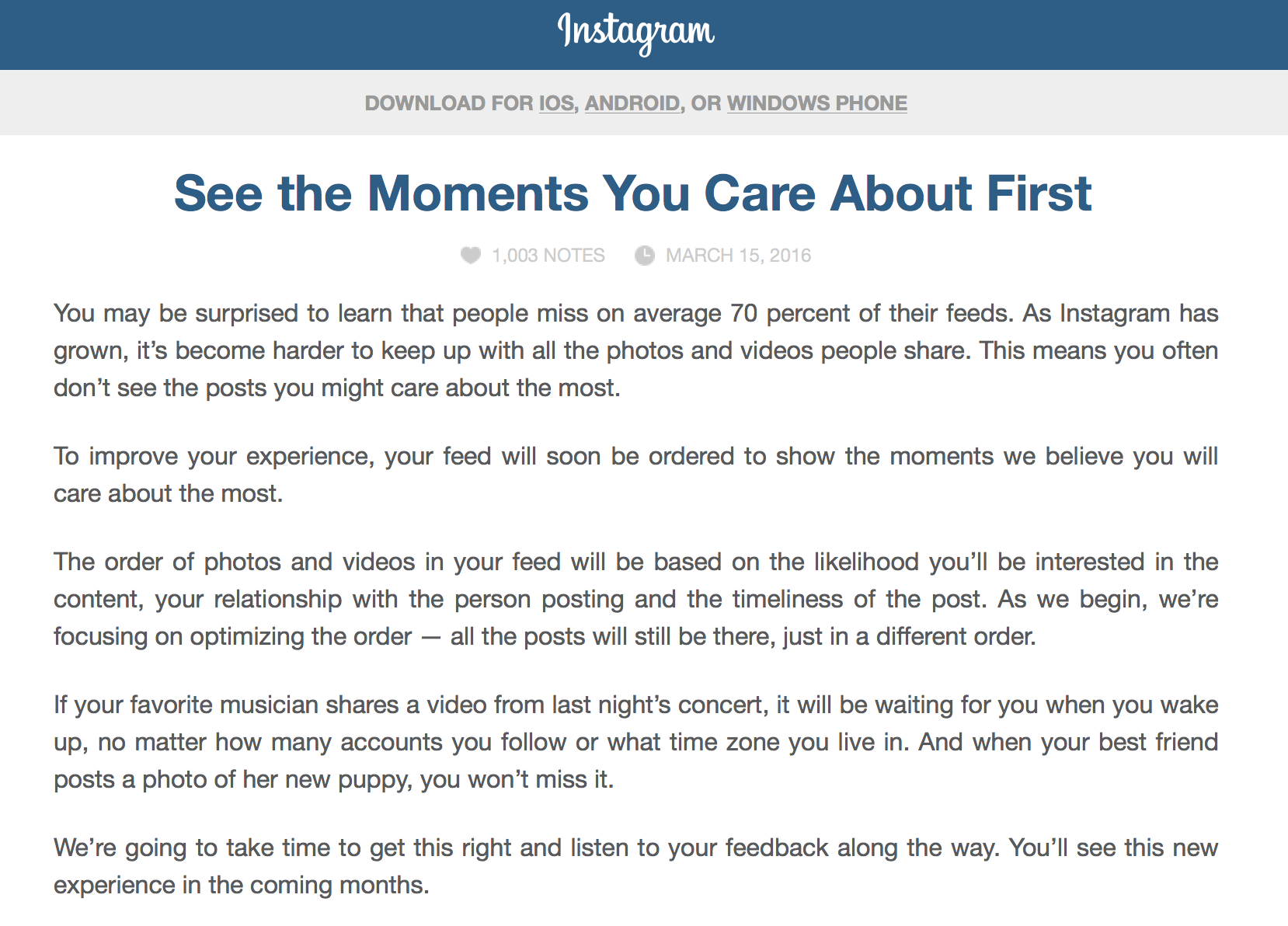 People miss about 70 percent of their Instagram feed. Instagram plans on ensuring that the 30 percent users do get to see is relevant to what they like. Instagram wants that 30 percent to be the best of the best for its users.
Instagram has jumped on the wagon of different social media sites, like Facebook and Twitter, in which they organize posts based on particular interests and bump those posts up to the top, even if the posts are a little old. The results of this change have been a little rocky for Facebook and Twitter, as tens of thousands of protesters went against it. But considering that Facebook introduced this change in October of 2009 (check out this cool Facebook algorithm change timeline), the change did not seem to hurt them at all.
Instagram is testing the waters right now and is taking a more cautious approach with this new change. They have only introduced the change on a single-digit percentage of users before they plan on introducing it sitewide. However, Instagram is not going to make this change optional like Twitter did on their site, which could create a backlash if users don't like it.
Instagram is known for making small changes, which keeps users happy. The changes that are going to take place aren't major, so people will not wake up tomorrow wondering if they have a different Instagram.
Since the new algorithm to be used by Instagram will be implemented based on interactions with photos, it is unclear how Instagram plans on keeping the celebrities, brands, and advertisements out of user feeds. The change might make it harder to find those gems you sometimes stumble upon. On the other hand, not many people like missing important events from their friends and family, which is why Instagram is choosing to go this route. Instagram wants to make everyone happy and hopes their new algorithm will do just that. Instagram wants you to see your friend's engagement right as it takes place.