Are your title tags good enough?
Do you know how to keep up with Google's changes to the SERPs?
How does it affect your business?
One of the more impacting changes Google has made in the last year was altering the font for title tags: 16 pixels to 18 pixels and removing the underline. The purpose is to make SERPS easier to read and create a cleaner display.
For titles that were already at or under the recommended rate of 50-59 characters for a title, it didn't change much. However, many are asking the question: how many title tags were affected by the font changed?
Authority Labs conducted a study to find out how many of the titles were actually affected by Google's changes. Here's a little summary of their study, data, and results:
MINING RESULTS AND TITLE TAGS
By compiling a list of random keywords and pulling the top results for each, they created a data set with over 111,000 results to work with.
COMPARING TITLE LENGTHS
The team analyzed the data first by comparing the length of the title showing in the search results to the full length title found on the actual site page. That's where things became apparent that the sweet spot for title tag length is about 55 characters.
CH-CH-CH-CHANGES
How many were changed?

36% Partially changed (40,164 results)
24.5% Completely Changed (28,336 results)
38.6% Unchanged (42,983 results)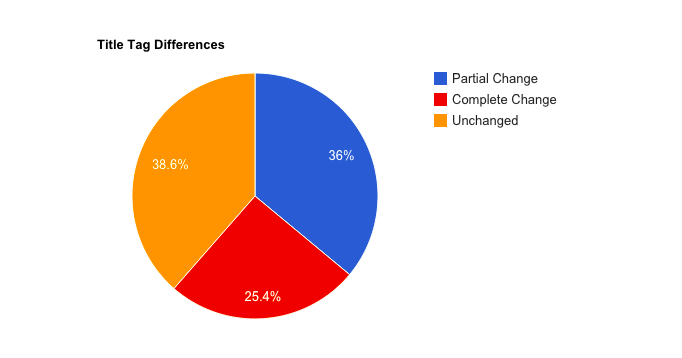 BREAKDOWN
Even after breaking down the results even further and analyzing trends, the preference Google has for 50-59 character title tags is quite obvious.
RANK POSITION
Though SERPs were affected and title tag displays were changed, there didn't appear to be a trend between the ranking of a page and how much a title tag was changed. Basically, changes were distributed evenly across the board, all the way from the top results and buried web pages.
TIPS AND TRICKS
So if you've been good about keeping your title tag length under 60 characters, just keep doing what you're doing. But if you're not sure how to write an engaging title in that sweet spot, here are some tips to help:
Not too long, not too short. Long title tags that are cut off on the SERPS aren't going to attract readers, but neither will short, bland titles. Keep the character count around 55 by adding the attractive words you need and by cutting out redundant keywords at the same time.
Keywords in the front, Brand in the back. If you want to include your brand in the title tag, place it at the end of the title.
Clear and Candid. Title tags that are unique, coherent, and straightforward tend to get the most clicks.
Title Tag Preview. Moz has a helpful tool that allows you to create and preview a Google-friendly title tag.
So, it's as easy as this: Keep your title tags short, sweet, enticing, and within the recommended 50-59 character limit. And if you want to read more about the results found in this study conducted by Authority Labs, you can find the original article here.
Comments
Comments are closed.
Tags:
creating good title tags
,
on page optimization
,
title meta tags
,
title tags