There are several problems with Google Analytics that have been discussed in different posts. However, despite the problems, Google Analytics remains a popular tool for a few reasons. The first reason is that it is free, until you reach about ten million page views a month. Once you reach this point it will cost you around $150,000 per year. The second reason that it is popular is because it has many features that are regularly being developed.
The question is, what if you do not like the fact that Google has access to that much data? Or dealing with the various problems that come up?
If that is the case it is time to start looking for an alternative to use instead of Google Analytics. Here are a few of the alternative choices that you can use. All of the alternatives will easily fit into most budgets as well.
1. Clicky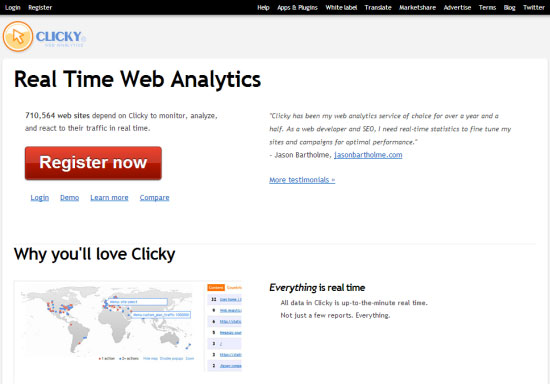 One issue that many people have with Google Analytics is that the interface is not easy to navigate. There is something about a system that is easy to use and fairly straightforward. At Google Analytics when the interface is changed the terminology used in the menu changes as well. This means that you will have to take the time to learn your way around the entire system once again.
Clicky does not use flash components and is very easy to navigate. This makes it easy to use from your mobile device. Most of the Google Analytics apps are limited so you cannot do much more than the basics when you are using your mobile device on the go.
Setting it up will require that you add a snippet of code to your website. There are several plugins and apps that make this process quite easy.
Some of the features of Clicky include:
Customizable tracking
View individualized visitor logs
Real time analytics
Funnel/path analysis
Goal tracking and split testing are available with a pro account, which costs $9.99 each month. Heat maps and uptime monitoring are available with a pro plus account, which costs $14.99 per month.
2. PIWIK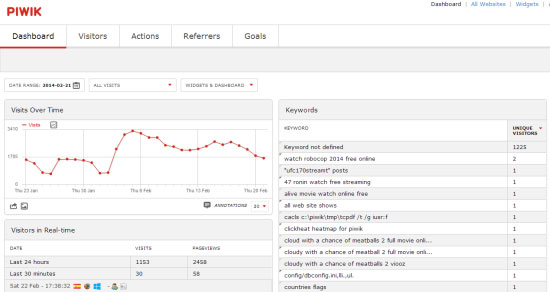 Another analytics package that is easy to use is PIWIK. The big difference when choosing PIWIK is that setting it up involves more than installing some code. If you do not choose the paid cloud service offered by the company then you will have to install the software on your server. There is an installation guide available that will help you get through this. The software is open source.
One of the best things about PIWIK is that they are really responsive when bugs are found within the system. They are also very transparent about fixing these bugs. As each item is fixed it is marked off on the log.
Some of the features of PIWIK include:
Goal tracking
Customizable dashboard
Free download of the plugin marketplace
View logs of individual visitors
If you host it on your own server the cost is free. The cost for the cloud service starts at 49€ a month for 300,000 page views and less.
3. Gauges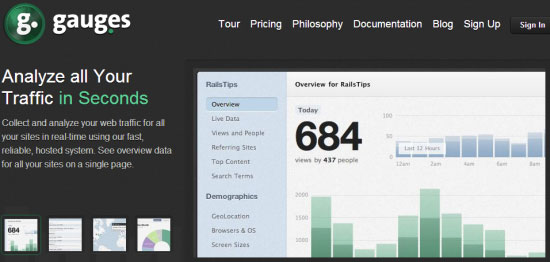 Another affordable alternative to using Google Analytics is Gauges. It works in a much similar way as it provides you with a snippet of code in Javascript that can be added to each of your pages. The idea behind this platform is to provide actionable data through an interface that is easy and simple to understand.
Features:
Easy to use
Real time analytics
Team support (both large and small plans)
Dashboard is flash free, which is makes mobile viewing easier
API available
The cost for Gauges starts at $6 a month for up to 100,000 monthly page views and an unlimited number of sites.
4. Mixpanel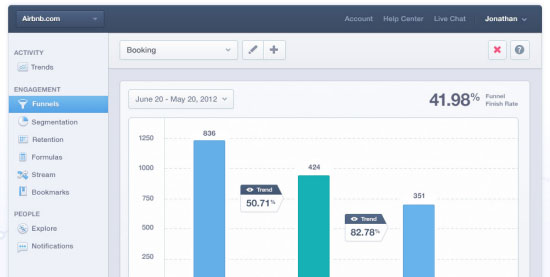 Mixpanel offers a platform that focuses more on events instead of page views. This is an important difference to note because in reality page views do not really tell you all that much. Mixpanel was designed for companies that sell services or products and it comes with a ton of features.
Some of the features of Mixpanel include:
Use funnels to answer important questions and to run experiments
Advanced segmentation
Customer groupings
Detailed retention reports available
Customer life time value
Behavior based analytics
Sends notifications to consumers both on the web and on mobile
Automation support
The price is free for up to 25,000 data points, which is equal to 1000 profiles. There are paid accounts available starting at $150 per month.
5. Reinvigorate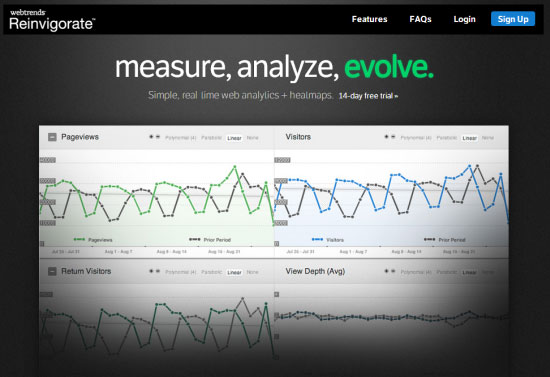 Offered by Webtrends, Reinvigorate is a quality platform. The analytics package is loaded with heat maps and has been designed to be easy to use. The setup is extremely straightforward, similar to that of Google Analytics and it comes with a plugin that can be configured to work with WordPress to make it even easier. In order to improve load times tracking code is delivered by using a CDN.
Features of Reinvigorate include:
Heat maps
Real time analytics
Use name tags to track registered users
Breakdowns available hourly, daily, and monthly
The price for Reinvigorate starts at just $10 a month. This provides you with up to 500,000 page views per month for 3 websites and 3 users.
6. FoxMetrics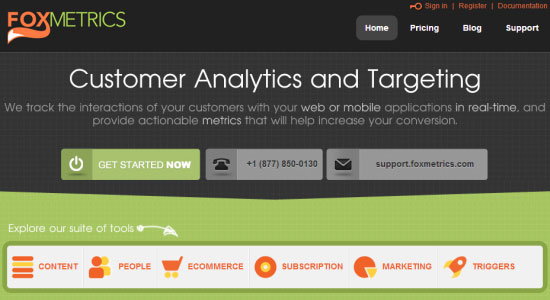 If you are considering a solid alternative for Google Analytics, FoxMetrics offers a great choice. It provides more focus on the behavior and actions of each visitor rather than the individual page views. FoxMetrics should typically be used as an addition to another platform such as Clicky or Google Analytics.
The main reason for this is because the focus of the data is different. The pricing is based on requests instead of page views. Essentially, a request is an event. For example, if a user were to download a file and click on 2 links and buy a product you would be looking at 4 requests.
 FoxMetrics Features include:
Person level tracking
Real time analytics
Unlimited users
API available
The price for FoxMetrics starts out at $20 per month and this includes 100,000 requests.
7. KISSmetrics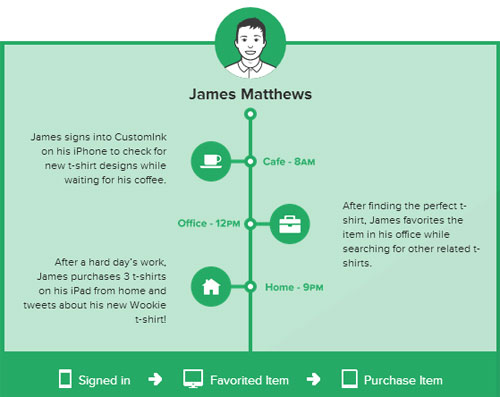 Another event based package for analytics is KISSmetrics. This platform is perfect for learning exactly what each of your visitors is worth. Even if the visitor does not make a purchase until six months or a year in the future, you will be able to find out who they are, how they located your site, and which variation of your page that they saw if you have set up any types of split tests.
Some of the features of KISSmetrics include:
Unlimited split tests
Unlimited reports
Data export
Data segmentation
Group contact lists
With the professional plan you receive one on one consultation as well as a dedicated metrics specialist. The price for KISSmetrics starts at $150 per month, which can be used for up to 500,000 events per month.
8. Woopra
The focus of Woopra is similar to that of KISSmetrics. There have been a number of recent changes made to the platform. Each of the changes have made it that much better as they have been about better understanding behavior and getting to the metrics that really matter instead of just finding out what happened or what is happening.
Some of the best features of Woopra include:
Advanced segmentation
Desktop client
Mobile app
Real time stats
Live chat available
Advanced reporting
Custom tagging
CRM features
With the paid plans you will receive support options as well. The price is free for up to 30,000 actions each month. There are paid plans available that start at $79.95 per month. At this price you receive 400,000 actions each month.
9. Adobe Analytics

Adobe Analytics offers an enterprise level service because of the features that you gain access to. One of the hardest parts of many of the systems is being able to manage your custom tags. Most systems will require you to alter the code to make a simple tweak that would allow you to tag your registered users. With Adobe Analytics you will not need to involve your IT team in order to help create a tag management system.
Some of the features of Adobe Analytics include:
Advanced segmentation
Real time analytics
Video analytics
Social and mobile analytics
Dynamic tag management
To learn about the pricing for Adobe Analytics you will need to contact the company. Prices tend to start in about the $5000 per month range.
Choosing the Right Analytics Package
It can be difficult to choose the right analytics package to use as everyone has goals that are slightly different. Instead of choosing a package that might work for you, consider your goals and then look at the features that are available to help you make the right choice.
Comments
Comments are closed.
Tags:
google analytics
,
google analytics alternatives