Benefits & Challenges
With more traffic than LinkedIn and Twitter, Wikipedia is the largest and most referenced research tool found on Google today. It has high authority with Google and often ranks higher than any other page. Without it, your SEO strategy will not be complete.
Prior to hiring a Wikipedia expert, you might have tried managing it on your own or through a PR firm and found out firsthand that it's more complicated than you thought. Wikipedia is very complex, vague in explanation, and requires a lot of time and patience to be devoted to it in order for it to work in your favor. Wikipedia is much different than anything PR, advertisement, or marketing and requires experts in the field with years of experience managing Wikipedia accounts.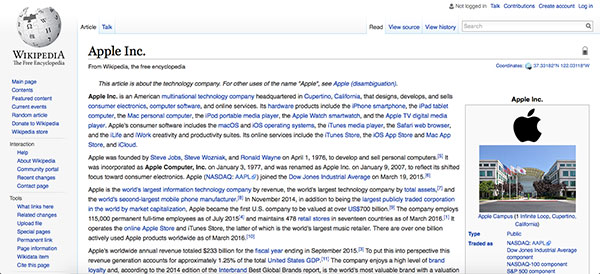 Bestseofirm.com has been managing and working with Wikipedia accounts since it was founded back in 2008. Bestseofirm.com handles Wikipedia accounts for major corporations, top executives, NGOs, celebrities, attorneys, doctors, and many more clients, following all the rules of Wikipedia and giving clients more visibility and high rankings on Google. If you don't have Wikipedia, or have one that needs to be edited and managed, our expert Wikipedia editors can assist you; whether you are a business, an individual, non-profit, or any other type of company, our veteran Wikipedia experts will successfully create and manage your Wikipedia accounts. Every Wikipedia page should have quality content, be formatted properly to fulfill Wikipedia requirements, and follow the specific manuals and style.
Wikipedia pages can benefit your business dramatically as it shows the history of your company, its accomplishments, years of operation and its overall success. Having a Wikipedia page in today's world is one of the most crucial aspects of getting your company seen online. Additionally, Google search results rely on Wikipedia to share knowledge, which is why you need one.
Our company does extensive research, creates quality and unique content, and posts on Wikipedia pages for our clients and companies. In essence, a Wikipedia page is like your company's diploma.
Our Process
Our process begins with extensive research to ensure all of our content passes Wikipedia's complex guidelines. We then create unique and quality content, post it to the Wikipedia page, and manage it from there, updating and improving content because relevant and new content is essential for high rankings on Google. Wikipedia is essential for you and your company to achieve top rankings in all major searchengines.
Authority & Trust
Why is Wikipedia a necessity? A Wikipedia page is one of the most important links you or company can have. It has very high authority with Google, and it can be one of the most important links your name or company can have. We have literally seen 200% increases in organic and referral traffic once a business or person obtains a Wikipedia page. It will pay for itself one thousand times over!
Brand Recognition
Search any company online and the first thing you'll see is a Wikipedia page. Having your own Wikipedia listing is the highest achievement you and your company can have. It shows everyone that your company and brand are important and trusted. Our company can create a Wikipedia page for you or your company regardless of your niche. We have years of expertise in the business and can guarantee you that it will give your website high traffic and more leads.
A Wikipedia page is the most powerful marketing tool you, your company, and brand can have today, so let us help you create and manage your Wikipedia page.
Pricing & Timeframe
Turn around time is roughly 2 weeks. If accepted, the price is a one time fee of $1,500. Payment is not due until Wikipedia page is live.
Our Guarantee
If your Wikipedia page happens to get taken down, we will refund you in full. Fill out your information below to find out if you or your company qualifies for a Wikipedia page.